New Delhi, January 15, 2020: Japan International Cooperation Agency (JICA) and Ministry of Railways (MOR), Government of India (GOI) held 3rd Joint Coordination Committee (JCC) meeting for Technical Cooperation (TC) project of Capacity Development on Railway Safety to discuss the achievements so far and future activities. The said TC project commenced in December 2018, being jointly implemented by Indian and Japanese side, is expected to result in enhancement the capacities of the Indian Railways (IR), Dedicated Freight Corridor Corporation of India Limited (DFCCIL) and Commission of Railway Safety (CRS) with regard to safety in railways network. The Indian railway network is one of the largest in the world, therefore maintenance of the safer and reliable operations is of utmost priority.
During the last year, JICA invited around 40 officials from IR, DFCCIL and CRS to attend training programs in Japan, focusing on Track Maintenance, Rail Welding, Rolling Stock Maintenance and Accident Investigation. These training programs were not only instrumental in preparation of the short term and long term safety action plans and also initiating the periodical safety review in railway zones, but also showcasing Japanese good practices of construction, maintenance works and sharing Japanese knowledge and experiences. At the CC meeting, achievements by training programs in Japan such as how Indian side has prepared safety action plans based on learning from training programs in Japan and also future action plans were discussed by Indian and Japanese side.
The JCC was co-chaired by Mr. T. P. Singh, General Manager, Northern Railway cum Project Director of the TC Project and Mr. Yoshiro Masuda, Director, Infrastructure and Peace Building Department of JICA Head Office, along with Dr. Makoto Ishida, Chief Advisor of the TC Project and Dr. Fuminao Okumura, JICA Expert on Railway Safety Policy (Member, Japan Transport Safety Board, Government of Japan.)
Speaking on the occasion, Mr. Katsuo Matsumoto, Chief Representative, JICA India Office said, "JICA expert team and Indian officials had detailed intensive discussions during the training programs conducted in Japan last year. During these training programs, Indian officials came forward in preparation of the safety Action Plans to improve quality of maintenance work in respective fields. It is hoped that these training program in Japan would contribute to bring the safe environment in India and future action plans would be functionally implemented to promote safe operations and appropriate maintenance in Indian Railway."
This TC project would continue to be implemented during the next one year's time, wherein Indian officials and JICA expert team would be jointly working for improving the safe railway operations.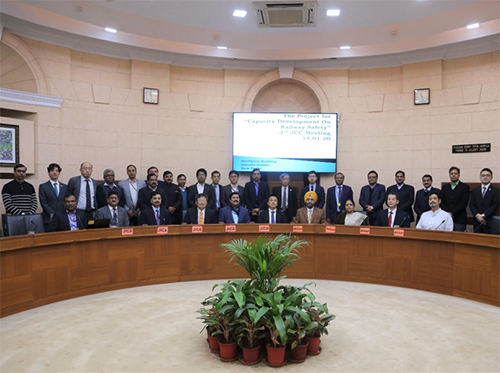 The Indian and Japanese side during the discussion at the JCC Meeting
About JICA
Established by a specific law as an incorporated administrative institution under the Government of Japan, the Japan International Cooperation Agency (JICA) aims to promote international cooperation as the sole Japanese governmental agency in charge of ODA implementation. JICA is the world's largest bilateral donor agency. JICA works as a bridge between Japan and emerging countries, and provides assistance in the form of loans, grants and technical cooperation, so that the emerging countries can strengthen their capabilities.
For further information, please contact:
JICA India Office
Sho Naya / Vini Sharma
+91 11 49097000
Sho.Naya@jica.go.jp
sharmavini.id@jica.go.jp