New Delhi, February 17, 2020: Japan International Cooperation Agency (JICA) has dispatched 8 more volunteers to India on February 17, as rugby coaches in Odisha to build capacities and improve sport competencies in the country. The Japan Overseas Cooperation Volunteers (JOCV) aim to promote international cooperation through the exchange of knowledge, by working as a bridge between India and Japan. With these new volunteers, the JICA Volunteers in India now count to the total of 28, in as many as 10 states which are Telangana, Karnataka, Tamil Nadu, Odisha, Himachal Pradesh, Gujarat, Delhi, West Bengal, Uttarakhand and Andhra Pradesh.
The 8 new JOCVs are sent through the university partnership program between JICA Kansai Center and Doshisha University. The program aims at the promotion of rugby as well as the sound development of youth through rugby in India. Simultaneously, the program is expected to foster the international perspectives among the Doshsiha students and people to people exchange between the students of two nations. Until 2024, Doshisha University will send their students to India as rugby coaches once a year for 1 month.
The first batch of the program includes Mr. Shun Akatsu, Mr. Hibiki Saito, Mr. Kenjiro Sakaki, Mr. Katsuya Suzuki, Mr. Shintaro Tsujino, Mr. Riki Fukushima, Mr. Chihiro Yoshita and Mr. Kaku Tachimoto. These new JOCVs to India will be in addition to the existing rugby JOCV in Odisha, Mr. Tatsuya Kato, who has been dispatched through the same program since December 2019 for 2 years. Together forming a new team, the rugby coaches are motivated to train more students of Kalinga Institute of Industrial Technology (KIIT) University, Kalinga Institute of Social Sciences (KISS) and neighboring schools in Bhubneshwar and improve their sport's capabilities in India, thereby developing competitive, safe - playing environment in the country.
Speaking on the occasion, Mr. Katsuo Matsumoto, Chief Representative, JICA India said, "We understand the importance of deploying JOCVs in India and aim to enhance development of the country through this initiative. The JOCV program promotes mutual development and international goodwill by strengthening ties between the two nations. We believe this cooperation with the Indian Rugby Football Union, will act as a stepping stone to accelerate growth of sports in India. Besides rugby, JOCVs are catalyzing development in India by facilitating income generation activities for farmers, enhancing swimming skills for students and building Japanese language proficiency so that both countries could work together closely. Our goal is to contribute as much knowledge as we can to India, in each and every sphere of growth and development, thereby leveraging cross-country ties through mutual learning."
JICA values its cooperation with India and lays high importance on sound physical and mental development of youth. Therefore, JICA aims at facilitating people-to-people exchange between India and Japan and aim to contribute towards the development of the country's future generation.
JICA's increased emphasis on skill development and capacity building in India is a part of establishing India as a self-reliant nation. JOCVs aim to inculcate best practices amongst the people of India in order to leverage self-sufficiency amongst the general public. JOCVs are contributing in the fields of Japanese-language education, community development, social welfare, and sports in India, since 1966. India is one of the first countries where the JOCV program initiated and over 200 volunteers have been dispatched to India through the JOCV program since then.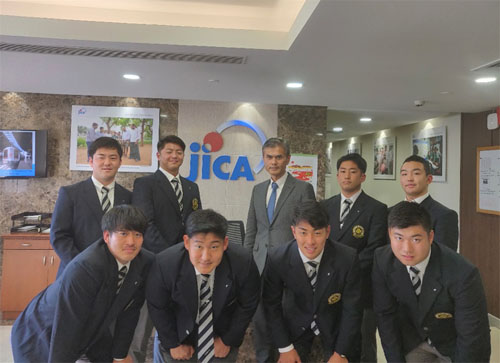 Mr. Katsuo Matsumoto, Chief Representative, JICA India, with the new 8 Rugby coaches.
About JICA
Established, by a specific law, as an independent administrative institution under the Government of Japan, the Japan International Cooperation Agency (JICA) aims to contribute to the promotion of international cooperation, as a sole Japanese governmental agency in charge of ODA implementation. JICA is the world's largest bilateral donor agency. JICA works as a bridge between Japan and emerging countries, and provides assistance in forms of loan, grant and technical cooperation so that the emerging countries can strengthen their capabilities.
For further information, please contact:
JICA India Office
Sho Naya/Vini Sharma
+91 11 49097000
naya.sho@jica.go.jp
Sharmavini.id@jica.go.jp
MSL India
Nishtha Grover/Saloni Sachdeva
(+91) 9818021223/ 9999427000
Nishtha.grover@mslgroup.com
Saloni.sachdeva@mslgroup.com