New Delhi, March 27, 2020: Japan International Cooperation Agency (JICA) has signed an agreement with the Government of India to provide an Official Development Assistance (ODA) loan of 55,474 million Japanese Yen (approximately INR 3,650 Crore) for the "Madhya Pradesh Rural Water Supply Project".
The objective of the Project is to provide safe and sustainable water supply in three Northwest districts of Madhya Pradesh State by constructing water treatment plants and related facilities, thereby contributing to the improvement of health condition and living environment of residents in the area.
The ODA loan agreement was signed between Dr. C.S. Mohapatra, Additional Secretary, Department of Economic Affairs, Ministry of Finance and Mr. Katsuo Matsumoto, Chief Representative, JICA India.
Speaking on the occasion, Mr. Katsuo Matsumoto, Chief Representative, JICA India said, "The project is in line with the Government of India's mission on establishing access to safe drinking water for the entire population of India and supports India's Policy on "Jal Jeevan Mission" which aims to provide functional household tap connection to every rural household in India by 2024. In addition, the project is also consistent with the targets of Sustainable Development Goal 3 and Goal 6 namely, "Ensure healthy lives and promote well-being for all at all ages" and "Ensure availability and sustainable management of water and sanitation for all." The project is in consistent with the Japan's Country Assistance Policy for India (March 2016) which specifies "Sustainable and Inclusive Growth" as a priority area that Japan will support in extending the safe drinking water supply and sanitation to ensure healthy living environment and mitigating issues related to climate change."
According to census 2011, Madhya Pradesh (MP) has a population of approximately 73 million, and the water supply connection rate in rural area is as low as 9.9% compared to the national average of 30.8%. MP is amongst the six states with a connection rate of less than 10%. The state currently relies on groundwater for about 98% of its drinking water source, but over exploitation of groundwater level has been observed, and such reliance on groundwater is considered unsustainable. The water supply facilities for the project is based on surface water as a sustainable water source in rural areas and extended to three target districts namely; Neemuch, Mandsour and Alot Block in Ratlam covering 1,697 villages. The project consists of two schemes covering 807 villages under Scheme-I in East and 890 villages under Scheme - II in West. Community development activities including sanitation education will be extended to the targeted villages on priority with the financial assistance from Madhya Pradesh Panchayat, Rural Development Department and Technical Assistance to ensure sustainable and inclusive growth in the region.
Madhya Pradesh Jal Nigam Maryadit (MPJNM) is the executing Agency for the entire project.
Japan's support to India's Water and Sanitation sector consists of ODA loans of over 722 billion Japanese Yen (approximately INR 48,000 crore). JICA has Water and Sanitation Projects in Maharashtra, Assam, Odisha, Goa, Rajasthan, Delhi and Bengaluru amongst other states.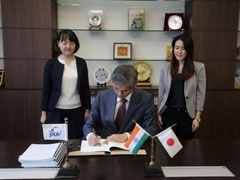 Mr. Matsumoto, Chief Representative, JICA India, signing the loan the agreements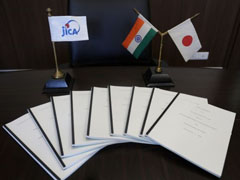 Total 9 loan agreements got signed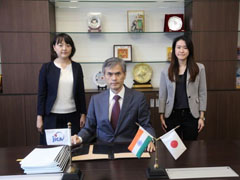 About JICA
Established, by a specific law, as an incorporated administrative institution under the Government of Japan, the Japan International Cooperation Agency (JICA) aims to contribute to the promotion of international cooperation, as a sole Japanese governmental agency in charge of ODA implementation. JICA is the world's largest bilateral donor agency. JICA works as a bridge between Japan and emerging countries, and provides assistance in forms of loan, grant and technical cooperation so that the emerging countries can strengthen their capabilities.
For further information, please contact:
JICA India Office
Shushaku Takada / Vini Sharma
+91 11 49097000
Takada.Shusaku@jica.go.jp
Sharmavini.id@jica.go.jp
MSL India
Nishtha Grover/Saloni Sachdeva
(+91) 9818021223/ 9999427000
Nishtha.grover@mslgroup.com
Saloni.sachdeva@mslgroup.com