New Delhi, March 27, 2020: Japan International Cooperation Agency (JICA) has signed an agreement with the Government of India to provide an Official Development Assistance (ODA) loan of 14,926 million Japanese Yen (approximately INR 980 Crore) for the "North East Road Network Connectivity Improvement Project (Phase 4)".
The objective of the Project is to improve connectivity in North Eastern Region (NER) by enhancing infrastructure and improving the National Highway 208 connecting Kailashahar and Khowai section in Tripura State, thereby promoting socio-economic development in the region.
The ODA loan agreement was signed between Dr. C.S. Mohapatra, Additional Secretary, Department of Economic Affairs, Ministry of Finance and Mr. Katsuo Matsumoto, Chief Representative, JICA India.
Speaking on the occasion, Mr. Katsuo Matsumoto, Chief Representative, JICA India said, "India and Japan have strategic partnership in cooperating for the economic development of North East Region through connectivity building and infrastructure projects under Japan's policy on "Free and Open Indo Pacific". JICA funded the North East Road Connectivity project ensuring trans-national cross border regional connectivity to neighboring countries like Bangladesh and Myanmar. Our aim for North Eastern Region is in line with the Government of India's Act East Policy and North Eastern Region Vision 2020, which aims to ease flow of goods and people by developing infrastructure, and expand job opportunities. The length of the added section between Kailashahar and Khowai, is 80.2 km in total including 4.99 km of bypass construction. Through development of this area, we aim to enhance lives of people including communities who can easily travel and migrate with the help of this Project."
The road under the Project starts from Kirtanthali (near Kailashahar town) and ends at Khowai. It runs through Unakoti, Dhalai and Khowai Districts of Tripura and passes through village/localities namely: Kirtanthali, Jarulthali, Rajnagar (near Fatikroy), Gakulnagar, Ganganagar, Rajkandi, Saidacherra, Dengdum, Durgahoumohini, Eararpar, Manikbhander, Lambucherra, Srirampur, Sukhiabari, Langtibari, Laxmichara, Behalabari and Khowai. Currently, the residing communities in the area, take longer routes to travel between Kailashahar and Khowai, but the Project will ensure ease of travel in a timely manner.
National Highways and Infrastructure Development Corporation Limited (NHIDCL) is the Executing Agency of the Project.
Including the amount extended for Phase - 4, JICA has extended a cumulative ODA loan of 199,821 million Japanese Yen (approximately over INR 13,300 Crore) for the North East Road Connectivity Project. Phase-I covered improvement of National Highway (NH)-51 and NH-54 in Mizoram and Meghalaya, respectively. Phase-II helped in improvement of NH-40 and laying bypasses along NH-40 in Meghalaya and constructing bypasses for NH-54 in Mizoram. The Phase-III supported construction of 20 kilometers long four lane bridge between Dhubri in Assam and Phulbari in Meghalaya. Overall, the Project has helped in upgradation of Transit infrastructure thereby improving regional development in NER.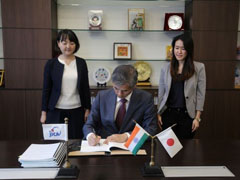 Mr. Matsumoto, Chief Representative, JICA India, signing the loan the agreements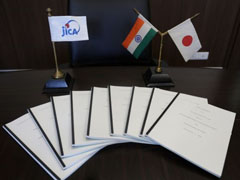 Total 9 loan agreements got signed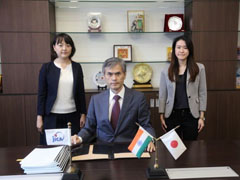 About JICA
Established, by a specific law, as an incorporated administrative institution under the Government of Japan, the Japan International Cooperation Agency (JICA) aims to contribute to the promotion of international cooperation, as a sole Japanese governmental agency in charge of ODA implementation. JICA is the world's largest bilateral donor agency. JICA works as a bridge between Japan and emerging countries, and provides assistance in forms of loan, grant and technical cooperation so that the emerging countries can strengthen their capabilities.
For further information, please contact:
JICA India Office
Shushaku Takada / Vini Sharma
+91 11 49097000
Takada.Shusaku@jica.go.jp
Sharmavini.id@jica.go.jp
MSL India
Nishtha Grover/Saloni Sachdeva
(+91) 9818021223/ 9999427000
Nishtha.grover@mslgroup.com
Saloni.sachdeva@mslgroup.com