The Organization for Economic Co-operation and Development (OECD) and the Indian Government jointly organized the 4th OECD World Forum entitled "Measuring Well-Being for Development and Policy Making" in New Deli, India from October 16 to 19. JICA Research Fellow Yoshiaki Takahashi attended the Forum to make a presentation as a panelist on the significance of subjective well-being for public policy.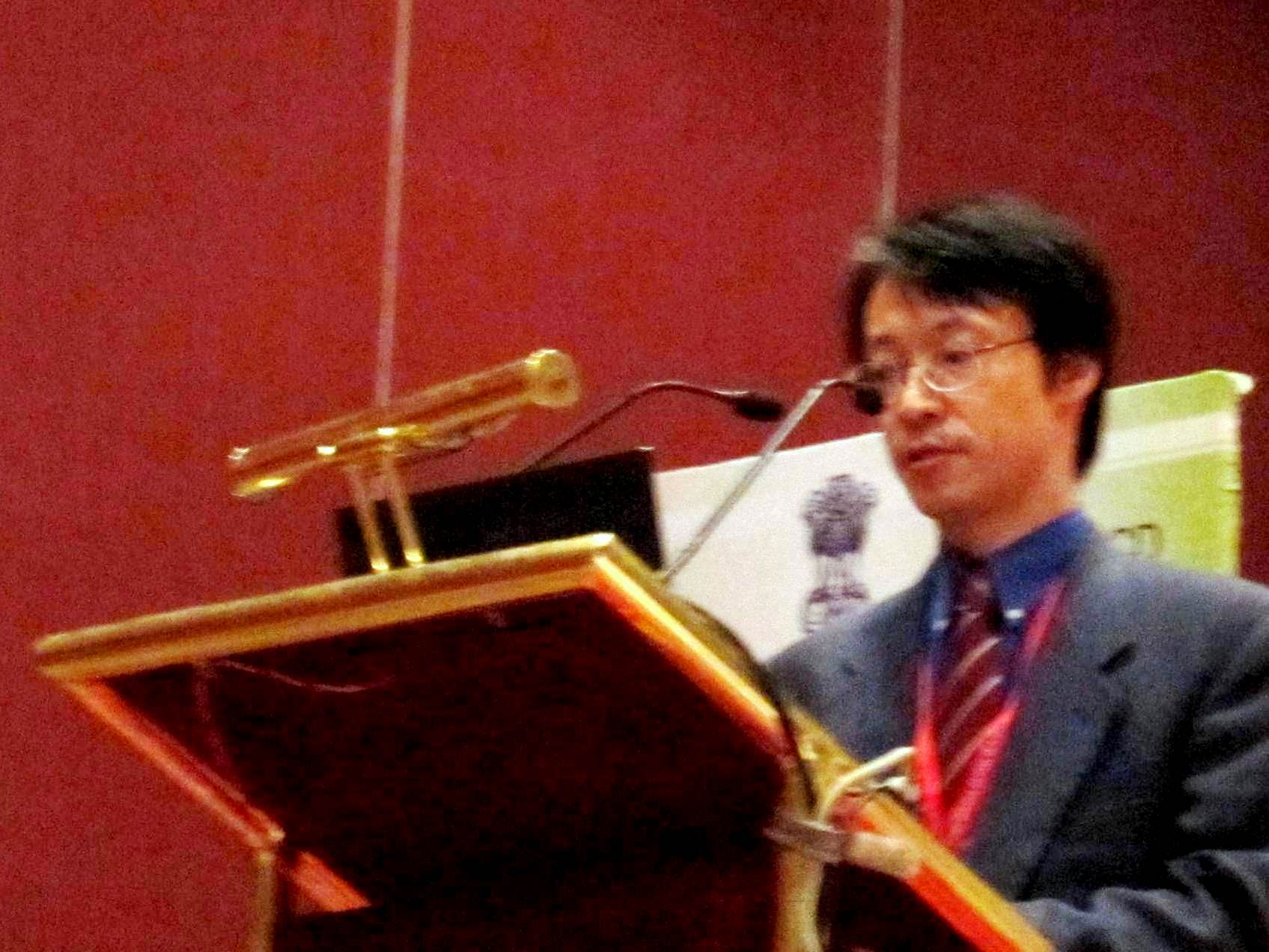 Research Fellow Yoshiaki Takahashi
Towards post-MDG discussions, the Forum aimed to discuss the theme from various viewpoints so that the creation of happy lives will be sustainable in emerging and developing countries, based on the "Better Life Initiative" suggested by Mr. Angel Gurria, Secretary-General of the OECD, on the 50th anniversary of its foundation in May 2011.
A number of key figures engaging in development assistance attended the Forum, including Dr. Luis Lieberman, Vice-President of Costa Rica, and Dr. Alison Evans, Director of the Overseas Development Institute (ODI).
The sessions consisted of four themes: "Economic conditions," "Quality of life," "Gender, life course, social groups," and "Sustainability." Takahashi made a presentation with a title of "Subjective well-being as a policy tool," at the workshop of "Increasing people's subjective well-being" in the session of "Quality of life."
During the presentation, Takahashi explained: "Unlike the discussion on subjective well-being from research results in Western countries-it had so far been regarded as universal-meaning of happiness varies depending on culture." He continued that this difference in cultures is reflected upon the difference in form of distribution of happiness rating, citing the recent research findings from Dr. Yukiko Uchida of Kyoto University and Dr. Tithi Bhatnagar of the Infosys Leadership Institute in India, co-researchers of JICA-RI's research project titled "Re-examination of Development Policy from Happiness Study."
Takahashi, furthermore, introduced three types of distribution: Normal distribution, where the average value is the same as the peak of frequency of the level of happiness as in Bhutan and Bulgaria; Skewed distribution, where the peak is higher than the average value as in the UK and Holland; and M-shaped distribution, where the average value is between two peaks as in Japan, other Asian countries, Greece, and Hungary. He pointed out that this difference in reference point where people feel ideal happy was attributable to the difference in distribution and the data indicated the cultural differences of this point as well.
With regard to his presentation, Mr. Conal Smith, a panelist of the workshop, who has been developing on OECD's guidelines for measuring subjective well-being, commented: "I think that verifying why the difference in the distribution of well-being arises is a future research agenda. Mr. Takahashi's presentation applies well to this question." During the question-answer period and the plenary session, the participants made a variety of comments and showed great interest in Takahashi's presentation, with positive remarks especially from the participants among non-Western countries.

| | |
| --- | --- |
| Day | October 16, 2012(Tue) - October 19, 2012(Fri) |
| Place | New Delhi, India |
| Related File | |