On February 14, JICA-RI organized a public seminar to introduce experimental economics, which has been rapidly progressing in recent years, as a tool that can apply in the development fields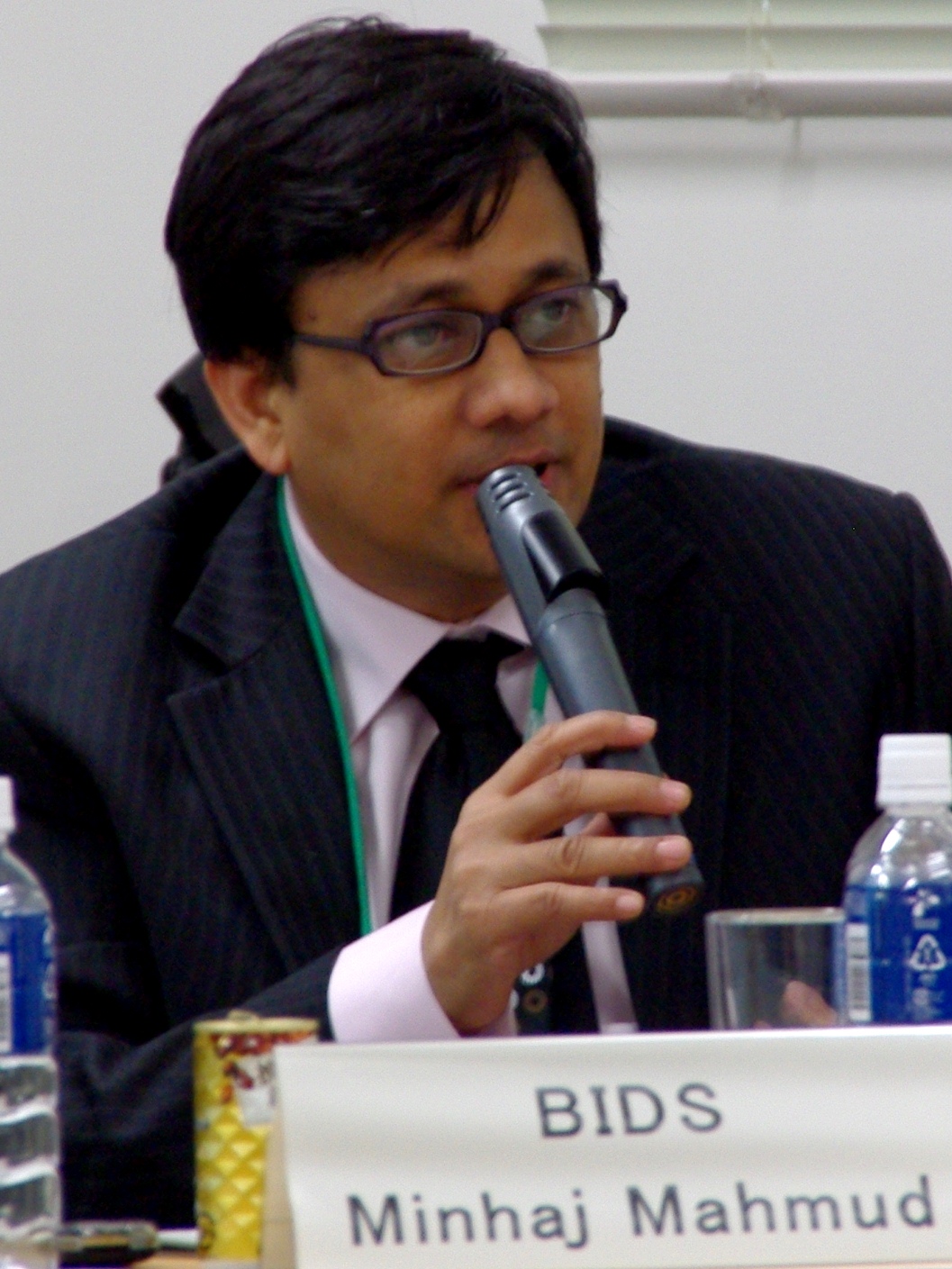 Dr.Minhaj Mahmud
Dr. Minhaj Mahmud from the Bangladesh Institute for Development Studies (BIDS), who has shown a remarkable work in this field, was invited as a guest speaker to this seminar, where he showcased examples and visions of his research with experimental economics approach
Experimental economics is a methodology that seeks to identify patterns in decision-making and behaviors of economic agents—individuals, households and companies—with observations through experiments in the laboratory and in the field. Today, experiments are being carried out in areas like public goods provision, financial markets and auctions. The results from the experiments could lead to some policy implication for development strategies.
In his opening remarks, JICA Senior Special Advisor Hiroshi Kato mentioned, as an example of a growing interest in the field of development, that the World Bank's 2015 World Development Report may take the theme of experimental economics. He added that JICA-RI has also introduced the methodology to its research projects
During the seminar, Dr. Mahmud defined the experimental method as "a revolution to understand human behaviors" and explained that this method observes how individuals make decisions under certain environments, and particularly how they allocate resources. He stressed that it has the potential to create valuable knowledge for the fields of development studies and development policies
Furthermore, he introduced his past and current Bangladesh research using the field experiments: 1) correlation between identity and trust; 2) demand for safe water products; and 3) road safety and drivers' risk-taking behaviors.
As for the first experiment 1), a trust survey was conducted in Bangladesh and West Bengal, part of India, to measure the trust among groups with different religions. The survey found that the majority/minority status in each group rather than religion per se dictates their behaviors of trust. In other words, trust is based on social status
About the second experiment 2), four point-of-use water treatment products for home use were distributed free of charge to an unspecified number of relatively poor households in urban area. Dr. Mahmud mentioned that good understanding of the products and their needs for safe water did not necessarily contribute to the continuous usage of the products. He concluded that it is important to design the products to attract the users, to provide the detailed information for them, and to reflect the results to future development policies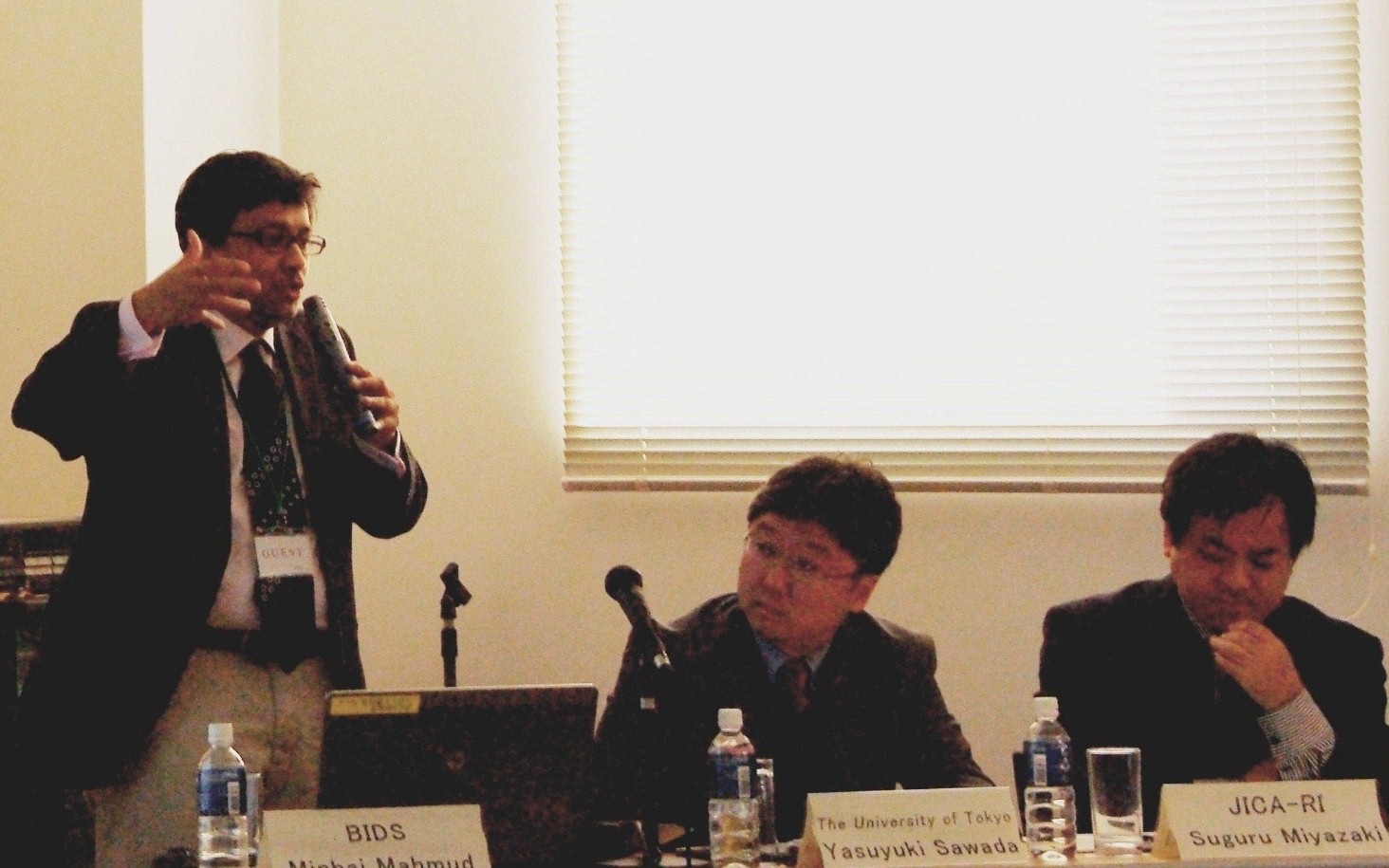 Dr. Minhaj(left), Visiting fellow Sawada(center),
Research fellow Miyazaki(right)
In the light of Dr. Mahmud's presentation, JICA-RI Visiting Fellow Yasuyuki Sawada, Professor of the University of Tokyo, pointed out the significance of the experimental approach in economics, commenting on the availability of field experiments as the core instrument in modern development policies
The Institute has been currently conducting a joint research project, entitled "Empirical Study on Risk and Poverty in Bangladesh," which Research Fellow Suguru Miyazaki represents. Dr. Mahmud and Visiting Research Fellow Sawada, as members of the respective research groups of the project, are involved in the analysis on the study of road safety and drivers' risk-taking behaviors that was introduced in Dr. Mahmud's presentation. In this joint project, each research group attempts to employ the leading-edge approaches including a field experiment analysis explained during the seminar.
MOVIE COMMENTARY
Minhaj Mahmud
Research Fellow, Bangladesh Institute for Development Studies
| | |
| --- | --- |
| Day | February 14, 2013(Thu) |
| Place | JICA Ichigaya Building |
| Language | English |
| Related File | |