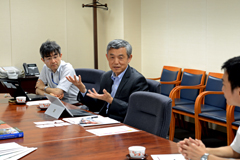 On June 29, 2017, Xue Lan, Professor and Dean of the School of Public Policy and Management of Tsinghua University, visited the JICA Research Institute (JICA-RI) and exchanged opinions with research fellows from JICA-RI.
The opportunity for the visit came with Xue's arrival in Japan for the first meeting of the JICA International Advisory Board*. JICA-RI Director Naohiro Kitano has furthered interaction in various ways, including giving a lecture at an academic discussion session hosted by Xue at the Center for Industrial Development and Environmental Governance (CIDEG) in the School of Public Policy and Management at Tsinghua University during his trip to China in May 2017.
First, Kitano gave an overview of JICA-RI and presented findings from the results of various JICA-RI researches. Next, Xue gave an overview of the School of Public Policy and Management and introduced its efforts toward collaboration with outside research institutes as well.
Participants from JICA-RI included Kitano, Deputy Director Nobuko Kayashima, Senior Research Advisor Akio Hosono, and research fellows from various research clusters. Research fellows summarized the activities of their own research, followed by a lively exchange of opinions.
In response to Xue's question regarding how to establish relationships with related organizations in recipient countries, Kitano explained by citing cases such as collaboration with the National Bank of Cambodia (NBC) on the "Empirical Study on the Promotion of Home Currency in Cambodia."
The meeting was ended after all the participants agreed to take this opportunity to deepen mutual collaboration in the future.
* The International Advisory Board was established in 2017 with the objective of strategically improving JICA activities and initiatives through advice obtained from outside experts.