From April 21 to 24, 2018, the Global Development Network (GDN), a network of researchers from developing and developed countries, and JICA Research Institute (JICA-RI) held a four-day Interim Authors' Workshop on their joint research project, "Quality & Productivity Improvement in the Private and Public Sector: Roles and Lessons from Kaizen Approaches" in Thailand.

This joint research was launched in 2016 to examine case studies of Kaizen implemented in developing countries to improve productivity, analyze its effectiveness, identify issues, and publish the findings and recommendations. It was the second Authors' Workshop after the first kickoff meeting held in Japan in June 2017. Joint research editors JICA-RI Senior Research Advisor Akio Hosono, JICA-RI Visiting Scholar Go Shimada, who is also an associate professor at Meiji University and Brookings Institution Senior Fellow John Page were joined by authors from Japan, writing teams from Ghana, the Philippines, Brazil and Vietnam, and Tetsushi Sonobe, vice president of the National Graduate Institute for Policy Studies (GRIPS), who served as an advisor.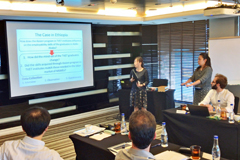 Each writing group gave a presentation on their first draft of nine case studies, and exchanged opinions in preparation for writing the final draft. In the book, the case studies will be divided into the following three categories according to their characteristics.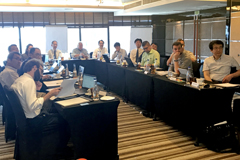 The first is "Introducing Kaizen," and consists of research on (1) the effect of Kaizen training in the educational sector in Ethiopia and South Africa, (2) success factors for the implementation of Kaizen as industrial policy in Ethiopia and (3) dissemination of Kaizen and the roles of the public and private sectors in Malaysia, Indonesia and Myanmar.

The second is "The effect of Kaizen on major companies," and consists of research on (1) the role of Kaizen in the participation of Mexico's companies in the Global Value Chain, focusing on Mexico's automobile industry, (2) the impact of implementing the Toyota Production System (TPS) on competitiveness and the impact on learning in South Africa and (3) the effect of Kaizen on management at major companies in Brazil.

The third is "The effect of Kaizen on Micro, Small and Medium Enterprises (MSMEs)," and consists of research on (1) the effect of Kaizen on improving the management capabilities of Ghana's stagnant MSMEs, (2) the impact of Kaizen training on clusters of small and medium-sized companies in Vietnam's rural communities and (3) the effect of Kaizen support activities at micro, small and medium-sized food manufacturers in the Philippines.
As authors from Japan, Momoko Suzuki (Industrial Development and Public Policy Department, JICA) and Eriko Sakamaki (JICA-RI) gave presentations in the "Implementing Kaizen" category. Reports were given on the theme "Is Kaizen Training in the Education Sector Effective in Improving the Employability of Students?" regarding the interim findings of research on Technical and Vocational Education and Training (TVET) in Ethiopia and Employability Improvement training in South Africa's Universities of Technology which incorporated Kaizen in their curriculums. Findings indicated that skills acquired through Kaizen are also skills necessary in workplace. They also indicated that while TVETs place more importance on attitude and work ethic, universities place more emphasis on cognitive skills such as logical thinking and problem solving, and that learning Kaizen through practice is effective.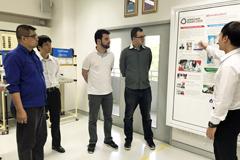 Other authors from JICA who are writing case studies gave presentations as well. These authors included Toru Homma (Senior Advisor, Private Sector Development: Investment, Trade & Industry), Keiji Katai (Director, Private Sector Development Group, Industrial Development and Public Policy Department), Kimiaki Jin (Senior Assistant Director of Private Sector Development Group, Industrial Development and Public Policy Department) and Keiji Ishigame (Director, Partnership Program Division, Yokohama International Center).

In addition, the group visited the Samrong Plant of automotive supplier DENSO (Thailand) Co., Ltd., which is at the cutting-edge of Kaizen in developing countries, and the Thai-Nichi Institute of Technology, a university teaching Kaizen, which boasts a 100% graduate employment rate.

Through the Interim Authors' Workshop, participants were able to share their concepts of the overall book and clarify the direction of future writing. The book is scheduled for publication in fall 2019, in conjunction with the 7th Tokyo International Conference on African Development (TICAD 7).
External link