In April, 2018, JICA Research Institute (JICA-RI) launched the research project, "Empirical Research on Impacts of Study Abroad in Developing Countries - based on Study Abroad Experiences of Academic Professionals of Major Universities in ASEAN."

The study abroad experiences of academic professionals have contributed to the social, economic, cultural and scientific development of those countries. There is, however, almost no research on their impact, particularly in developing countries. Therefore, this research intends to analyze what types of impact the study abroad experiences of academic professionals have made on the development of universities in developing countries, targeting prominent universities in four countries: Cambodia, Indonesia, Malaysia and Vietnam (two universities in each country).

To begin with, mission teams were sent to Indonesia and Vietnam in April and May, 2018, respectively, and met with officials at target universities to explain the research plan and request consent and support from those universities.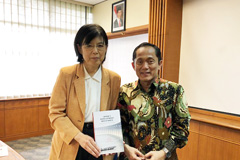 On April 23 and 24, Nobuko Kayashima, JICA's vice president and director at JICA-RI, Naoki Umemiya, director at Technical and Higher Education Team, JICA, and Atsushi Tsujimoto, research officer at JICA-RI visited Institut Teknologi Bandung and Universitas Gadjah Mada in Indonesia. At Institut Teknologi Bandung, the team met with Professor Kadarsah Suryadi, rector, and his colleagues who showed interest and agreed to collaborate for the project. In their discussion, it became clear that many academic professionals had studied abroad in Japan through JICA-supported technical cooperation projects such as the ASEAN University Network/Southeast Asia Engineering Education Development Network (AUN/SEED-Net) Project as well as yen-loan projects. It was also pointed out that alumni members from Japanese universities maintain much closer collaboration with their former advisors and colleagues than those who studied in other countries.

Professor Ika Dewi Ana, vice rector for Research and Community Service, Universitas Gadjah Mada, also showed interest in the research idea and mentioned that she wanted to engage proactively in the this research, considering that research outputs would yield important hints for the future development of university academic staff.

In the following discussions with academic staff at both universities, hearing that it is doctoral level education and research methods that are fully utilized even after returning to their home country, the team found that graduates from doctoral courses have made a greater impact. Indeed, those skills are obtained through many years of experience at their laboratories, especially in the case of Japan. In addition, academic networks created through doctoral education are better maintained and contribute to the continuation of international research.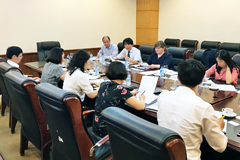 On May 7 and 8, JICA-RI Visiting Fellow Kazuo Kuroda, who is also a professor at Waseda University, Sarah R. Asada, Assistant Professor at Kyoritsu Women's University, and Shimpei Taguchi, JICA-RI staff member, visited Vietnam. The team met with Professor Le Tuan Anh, vice director, Cooperation and Development Department at Vietnam National University Hanoi (VNUH) and discussed possible ways of collecting data regarding people who have studied abroad, information on scholarship programs, and methods of surveying teaching staff members. Future actions necessary for data collection and analysis were also discussed. In addition, the team also met with Professor Vu Tuyet Trinh, vice director, International Cooperation Department at Hanoi University of Science and Technology (HUST) and confirmed the feasibility of the research.

Both of the two universities regard study abroad experience as an important factor in their staff development, and the team heard that one of the positive impacts of study abroad is the establishment of a new master's program designed by academic staff with study abroad experience.
They plan to send equivalent missions to the remaining two countries—Malaysia and Cambodia—this July, and after conducting surveys, then analyze the impact of study abroad experiences on the academic profession.