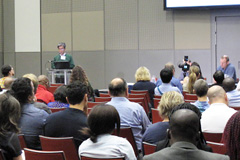 JICA Research Institute's Tetsuya Kamijo attended the 38th Annual Conference of the International Association for Impact Assessment (IAIA), held in Durban, South Africa, between May 16 and 19. He presented on environmental impact assessment (EIA) in developing countries.

The conference comprised 114 sessions, with 980 participants registering for it, including scholars and aid practitioners from all over the world.
In a session entitled "Effective Public Participation," Kamijo spoke about the linkage between analysis methods and discussion of alternatives and the relationship between discussion of alternatives and public involvement, based on his quantitative textual analysis of the minutes of meetings on environmental assessment for three JICA projects. He pointed out that a simple method of alternatives analysis activated the discussion of alternatives and led to improved public involvement.

In a session entitled "Exploring the Relationship between Quality and Justice," Kamijo said there is an interaction effect between alternatives and public involvement, which affects the overall quality of EIA reports. He based this on his statistical analysis of 160 JICA reports from 2001 to 2016. He then proposed specific guiding principles for satisfactory EIA reports.

In a subsequent Q&A session, audience members from Madagascar, Vietnam, Nigeria, and Brazil asked questions on topics such as study methods, JICA's EIA guidelines, and the guiding principles Kamijo had proposed. Public involvement and report quality are constraints in developing countries, and the audience members showed great interest in improving them.

Related video (IAIA18 website: LIVE STREAMING)