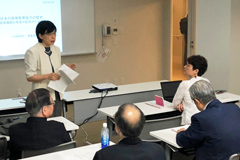 The 54th Annual Conference of the Japan Comparative Education Society was held in Higashihiroshima, Hiroshima prefecture, on June 22-24, 2018. Presentations were given on the JICA Research Institute (JICA-RI) research project "Japan's International Cooperation in Education Sector: Historical background & Situation Analysis" in the independent research session entitled "Theory, Thought and History" on July 24. The project aims to show the achievements and challenges of Japan's international education cooperation by recording and analyzing trends and features of its history from the 1950s to the present. It also aims to contribute to future policy-making and education cooperation projects.
The session, moderated by JICA-RI Visiting Fellow Kazuo Kuroda, who is also a professor at Graduate School of Asia Pacific Studies, Waseda University, began with professor Kazuhiro Yoshida of Hiroshima University giving a presentation entitled "Characteristics of Japan's Policy on International Cooperation in Education: Evolution and its Surrounding Factors after 1990." The 1990s were a decade of a changing international development agenda from economic development to human development. In the field of education, "Education for All," which promotes basic education, became a worldwide trend, while Japan established the first official development assistance policy (ODA charter). Japan's education cooperation policies have evolved since the 1990s, responding to domestic and international trends and actual development needs in developing countries and building on the strengths of Japan's education, he explained.

Professor Yoko Ishida of Hiroshima University gave a presentation entitled "Japan's Contribution to the Development of Basic Education Through International Cooperation: Support for Capacity Development in Educational Administration and School Management." In the mid-1980s, the decentralization of educational administration was proactively promoted, and parents and communities were encouraged to participate in school management. Thus, the capacity development of education ministries and local governments also began to be emphasized. Japan started technical cooperation projects in the field of basic education in the mid-1980s, then the field of cooperation extended to educational governance and school management after 2000. Ishida analyzed 45 technical cooperation projects that supported education governance and school management, then shared challenges and lessons from the analysis.
Next, Shoko Yamada, professor, and Yuki Shimazu, assistant professor, of Nagoya University, along with JICA-RI Research Officer Atsushi Tsujimoto, gave a presentation entitled "The Origins and Status Quo of Japan's 'Hitozukuri' (Human Resource Development Assistance): Trends in ODA for Industrial Human Resource Development." Technical and vocational education and training (TVET) is one of the areas of Japan's ODA projects with the longest history. They analyzed data on JICA's technical cooperation projects with regard to the technical field, region and form of assistance, in chronological order since the 1950s, and based on this analysis, spoke about the relationship between cooperation policies and their implementation. They also contrasted the TVET assistance of JICA under the Ministry of Foreign Affairs, with the Association for Overseas Technical Scholarship (AOTS), which was established with the support of Ministry of International Trade and Industry, then explained that while JICA has covered a wide range of regions and has worked to strengthen fundamental technical capacity in the fields of manufacturing and agriculture, forestry and fisheries, AOTS has focused on Asia and meeting the needs of Japanese companies in the fields of automobiles, semiconductors, etc.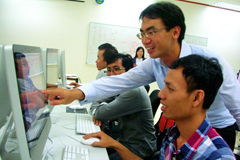 Next, JICA-RI Director Nobuko Kayashima gave a presentation entitled "History of Japan's Higher Education Cooperation: Cooperation to Develop and Expand Higher Education Institutes." Japan has proactively supported the establishment and development of higher education institutes since the early stages of ODA. Higher education cooperation began in the field of medicine in the 1960s, then expanded to other fields such as engineering and agriculture. Since 2000, new approaches have started and the Science and Technology Research Partnership for Sustainable Development (SATREPS) promoted international joint research, while the ASEAN University Network/Southeast Asia Engineering Education Development Network project (AUN/SEED-Net Project) supported regional collaboration on higher education activities. Moreover, Japan has supported the establishment of bi-national universities such as the Egypt-Japan University of Science and Technology (E-Just) in recent years. This cooperation has been implemented through the participation of Japanese scholars in approximately 200 Japanese universities, so the cooperation has strengthened the relationships between Japanese universities and universities in developing countries, increasing international joint research and the number of international students from developing countries. This has contributed to the internationalization of Japanese universities, said Kayashima.