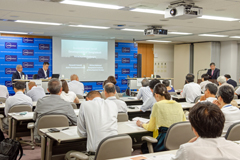 JICA Research Institute (JICA-RI) and the Asian Development Bank (ADB) jointly held a launch event for the book "Economic and Social Development of Bangladesh: Miracle and Challenges" on August 27, 2018, in Tokyo. About 100 people participated. The book is the culmination of the JICA-RI research project "Empirical Study on Risk and Poverty in Bangladesh."

The book analyzes in detail the causes of Bangladesh's remarkable economic and social development, which are often referred to as a miracle, using quantitative methods based on various micro data. The co-editors of the book are Yasuyuki Sawada, the chief economist of ADB and a former JICA-RI visiting fellow; Minhaj Mahmud, senior research fellow, Bangladesh Institute of Development Studies and a visiting scholar, JICA-RI; and JICA-RI Visiting Fellow Naohiro Kitano, who was JICA-RI director at the time he was editing the book.

Nobuko Kayashima, then JICA-RI director, gave the opening remarks at the event. Touching on the fact that a cause of Bangladesh's growth was the expansion of the agricultural economy to one that includes non-agricultural sectors, she said JICA has had a long history of friendship with Bangladesh since 1973. She also praised the success of the project that compiled research results in cooperation with young and senior economists from Bangladesh, Japan and other parts of the world.

Next, Rabab Fatima, ambassador of the People's Republic of Bangladesh in Japan, said Bangladesh has been gradually expanding its potential as a place for business investment since its independence in 1971 and is cited as a development role model. She expressed gratitude for the past contributions of JICA and ADB and added that she hopes they can continue collaborating with Bangladesh so this growth can be sustained.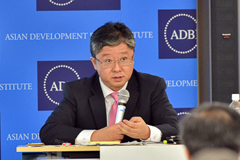 Next, Sawada gave an overview of the book. Part 1, he said, is about how the growth of the garment and pharmaceutical industries and investments in infrastructure created opportunities for work outside the agricultural sectors, bringing about an economic transformation that led to higher incomes. Part 2 looks at social transformations based on assistance, including improved agricultural productivity through the Green Revolution and the empowerment of women by NGOs and microfinance institutions (MFIs). Part 3 is about welfare improvements including poverty reduction and an improved standard of living. Finally, Part 4 addresses future challenges facing growth in Bangladesh.

In recent years, Bangladesh has maintained a high economic growth rate of 6 to 7 percent, and its per capita income has increased. Behind this, said Sawada, is an expansion of the main constituents of the economy to include the non-farm sector, centered on export industries such as ready-made garment and pharmaceutical industries. He noted that this was brought about by numerous causes, including the empowerment of women through expanded education and the penetration of microfinance. For example, when people using MFIs began investing in human resource development including the education of women, women's participation in economic activity grew, which stimulated the garment industry, with women playing an important role. He also explained that happiness increased as infrastructure such as bridges and the living environment improved.

Moreover, as Bangladesh maintains this growth, it will have to deal with risks including population concentration due to urbanization, natural disasters, environmental pollution, weak governance and political instability, he said. He concluded by saying countermeasures include a more proactive government as a catalyst for development, carefully designed industrial policies to nurture entrepreneurship, and investment in infrastructure.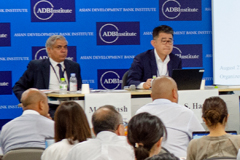 Shohei Hara, director general, South Asia Department, JICA, gave an introduction to JICA's initiatives in Bangladesh carried out as part of a strategy to accelerate economic growth and address social vulnerability. JICA's work in the country has been expanding, he explained. In addition to building infrastructure including power plants, a seaport under the Bay of Bengal Industrial Growth Belt concept and Dhaka Mass Rapid Transit, it is providing assistance to improve the investment environment and promote exports.
Manmohan Parkash, country director for the ADB's Bangladesh Resident Mission, said the country is a land of opportunity because it has a young population and has been maintaining stable growth. He said ADB has provided more than USD20 billion in financing to Bangladesh since 1973 and is now implementing 51 projects in sectors including infrastructure development - namely power plants, rail and bridges. Under its 2030 Strategy, it will aim for more comprehensive and sustainable growth of the country.
There was a lively discussion in the venue as the audience asked questions about risks to the environment from development, economic disparities, microfinance issues, the best fields in which to start businesses for the country's development, and economic relations between Bangladesh and its neighbors.

Finally, Takashi Matsuo, representative of ADB Japan, gave the closing address. He said the results of this research would be invaluable to JICA and ADB, and that the knowledge gained from this book will be put to good use in future strategies.
Related Materials
YouTube
"Economic and Social Development of Bangladesh: Miracle and Challenges"
(Yasuyuki Sawada, the chief economist of ADB and a former JICA-RI visiting fellow)
"JICA's Activities in Bangladesh"
(Shohei Hara, director general, South Asia Department, JICA)
"ADB's Strategy for Operations in Bangladesh to Achieve Higher Inclusive and Sustainable Economic Growth"
(Manmohan Parkash, country director for the ADB's Bangladesh Resident Mission)