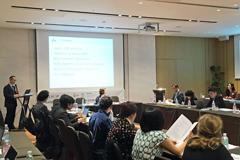 The North-East Asia Development Cooperation Forum was held in Seoul, South Korea, on September 14 and 15, 2018. Nobuko Kayashima, then director of the JICA Research Institute, and Kazuhisa Arai, director general of the Evaluation Department at JICA, participated in the event.

Japan, China, South Korea, and Russia have all experienced being both the recipient and the donor of development assistance. This forum was begun in 2014 with the participation of international development societies from the four countries and was headed by the Subregional Office for East and North-East Asia at the United Nations ESCAP (Economic and Social Commission for Asia and the Pacific) as a place for the mutual sharing of knowledge and for the discussion of the possibility of collaboration with this experience.

The fifth forum was held this year with the theme of "Evaluating development cooperation of North-east Asian countries for the achievement of SDGs," and discussions centered on status reports related to the evaluation of development cooperation activities, analysis of issues, the way these evaluations will be conducted in the future, and similar topics. Kayashima was a commenter for the "Policy/Programme Level Evaluation" session, and Arai was a presenter for the "Project Level Evaluation" session.
At this forum, presentations were made by representatives of aid organizations and researchers from the four countries regarding the current state of each country's evaluations of development cooperation, and it was reported that Japan and South Korea conduct evaluations using the evaluation standards of the OECD Development Assistance Committee (DAC).

The presentations regarding China and Russia, on the other hand, emphasized that cooperation provided by these two countries took the form of South-South cooperation, unlike the assistance provided by developed countries, and would require an evaluation system that differed from DAC's evaluation standards, even though evaluation of development cooperation had hardly been carried out yet. To be more specific, the discussion addressed the necessity for, and possibility of, incorporating "national ownership," "horizontality," "mutual benefit," "soft power," "economic benefits," and "security benefits" into such evaluations.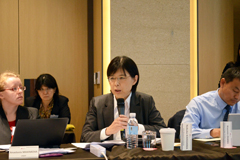 Kayashima said, "Going forward, it is necessary to examine the feasibility of incorporating these new aspects into evaluations. Studying evaluation methods of South-South cooperation by emerging donor countries is of great interest, in that the nature of cooperation projects will be clarified in terms of what results such projects will produce, and on whose behalf."
 
Among the four participant countries, it was clear that Japan had by far the most experience in evaluation, having a two-stage evaluation system with the Ministry of Foreign Affairs of Japan and JICA, and conducts as many as 200 post-project evaluations per year. There was a significant difference in the number of cases when compared to South Korea, which had developed a similar evaluation system to Japan. For that reason, the Korean, Chinese, and Russian participants voiced loudly their wish for Japan to share its experiences regarding its evaluation efforts, and going forward, it would be desirable for Japanese knowledge to be shared at the respective levels of practitioners, researchers and others.

Looking back at the forum, Kayashima made the following remarks: "Japan's official development assistance (ODA) has come to have a variety of new directions, including public-private partnerships and emphasis on national interests, and evaluating these projects will be an issue in the future. The continuous exchange of information regarding the form that evaluation of South-South cooperation by emerging donor countries will also be Japan's benefit."