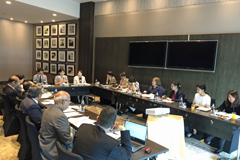 On Nov. 30, 2018, a stakeholders meeting for the JICA Research Institute (JICA-RI) research project "Empirical Research on Impacts of Study Abroad in Developing Countries - based on Study Abroad Experiences of Academic Professionals of Major Universities in ASEAN" was held in Bangkok, Thailand.

Participants in the research include Kazuo Kuroda, a visiting fellow at JICA-RI and also a professor at Waseda University, Miki Sugimura, a visiting fellow at JICA-RI and also a professor at Sophia University, Yuto Kitamura, an associate professor at the University of Tokyo, and other Japanese researchers in educational development. The study aims to analyze the impact that university academic professionals from developing countries with study abroad experiences bring to universities in their home countries. As part of data collection, researchers will design an online questionnaire survey targeting all teachers--more than 10,000 individuals--at a total of ten universities in Cambodia, Indonesia, Malaysia and Vietnam. In addition, they will investigate the changes in circumstances related to study abroad in each country and university and interview academic professionals who have studied abroad. Through these quantitative and qualitative analyses, researchers will attempt to verify the impact on the relationship between the teacher's home country and the host country in terms of the development of universities.

This meeting was the first opportunity to gather almost all researchers of the project from Japan and the four target countries. First, Nobuko Kayashima, principal research fellow at JICA-RI, Atsushi Tsujimoto, a research officer at JICA-RI, and Naoki Umemiya, director of Technical and Higher Education Team, Human Development Department, JICA, gave an overview of the research and explained how the survey would be conducted in the future and the draft of the questionnaire created by the project team.

That was followed by a broad exchange of opinions with higher education researchers and university personnel from each country, in particular regarding the aims and contents of the questionnaire survey, the specific methods of implementing the survey, and more. Because there is little research analyzing the impact of studying abroad from developing countries to developed countries, this research will be valuable in providing empirical evidence on the subject. Accordingly, each country has a high interest in the questionnaire in particular, so participants discussed measures to maximize the rate of collection of responses possible, as well as excesses and deficiencies of survey questions. Participants made various comments, including "we should clarify the target of the questions, such as individual, organization, or society."

Prior to this meeting, on Nov. 28, the Third Stakeholders' Meeting on Indicators for Internationalization of Higher Education in Asia and Pacific was co-hosted in Bangkok by the Bangkok Office of the United Nations Educational, Scientific and Cultural Organization (UNESCO) and the University of Tokyo. Kayashima attended one of the sessions and gave a presentation on this research project.

We plan to continue the research while exchanging information with UNESCO, overseas researchers and others and compile the findings in a book.