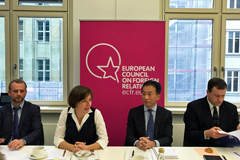 Shinya Ejima, then advisor to the director of JICA Research Institute (JICA-RI), gave a presentation on the "Free and Open Indo-Pacific Vision" at the Japan-Europe Forum for Global Issues 2018 held in Berlin, Germany on Dec. 6 and 7, 2018. The Forum was held as part of the Asia Program of the European Council on Foreign Relations (ECFR), a thinktank in the European Union (EU). It was the fourth time the Forum has been held.

Ejima served as a panelist in a roundtable discussion of "Competing connectivity projects in the Indo-Pacific" held on the 7th. Under the title "Free and Open Indo-Pacific Vision: From Competition to Collaboration with BRI," he explained the sequence of events from the "Free and Open Indo-Pacific Vision" advocated by Japan and the "One Belt, One Road" (OBOR) initiative proposed by China to the present day.

The OBOR initiative was proposed by Chinese President Jinping Xi in Nov. 2014. The English name was changed to the "Belt and Road Initiative" (BRI) in Sep. 2015, and in May 2017 it was announced that the Initiative's scope had been expanded to include Latin America. Meanwhile, Prime Minister Shinzo Abe proposed Japan's "Free and Open Indo-Pacific Strategy" at the Sixth Tokyo International Conference on African Development (TICAD VI) held in Nairobi, Kenya in Aug. 2016. Since then, Japan has been working to promote the stability and prosperity of the overall region by improving the "connectivity" between Asia and Africa. Japan declared its intention to cooperate with the BRI at the Japan-China Summit held in Vladivostok, Russia in Sep. 2018. In Nov. 2018, it was positioned as a priority policy for development cooperation, as the "Free and Open Indo-Pacific Vision."

Ejima pointed out that the starting point of the "Free and Open Indo-Pacific Vision" was in the "Confluence of the Two Seas" speech given by Abe to the Indian Parliament in Aug. 2007. He then explained that embracing as a whole the dynamism generated by the interaction of the "two continents," namely, the rapidly growing Asia and Africa, which has abundant potential, and the "two oceans," namely, a free and open Pacific Ocean and Indian Ocean, will open new horizons for Japan's foreign affairs. He said that Japan would provide Asian countries with overall support, including in the areas of infrastructure, trade and investment, establishment of the business environment, and human resources development, and would provide African countries with nation-building support in the areas of politics and governance, in addition to development, in a way that respects ownership. He concluded his presentation by pointing out the importance of promoting information sharing and mutual understanding, as well as human resources development, as issues for the future.

A broad range of topics were addressed in the roundtable discussion, from China's BRI to the contributions of Europe and Japan to establishing infrastructure in the Indo-Pacific region, and financial instruments.
Related Links