The "Comparative & International Education Society (CIES) 2019," a conference for researchers, educators and policy makers in the field of education from around the globe, took place in San Francisco, U.S., for five days from April 14 to 18, 2019. Approximately 3,500 people attended and over 500 sessions were held. The Higher Education Special Interest Group (SIG) had the largest number of sessions (43). In addition, there were 18 sessions of the Study Abroad and International Students SIG.
JICA Research Institute (JICA-RI) is currently conducting the research project "Empirical Research on Impacts of Study Abroad in Developing Countries - based on Study Abroad Experiences of Academic Professionals of Major Universities in ASEAN." The study aims to analyze the impact that university academic professionals from developing countries with study abroad experiences bring to universities in their home countries. A panel session on the research project took place on April 16. Kazuo Kuroda, a visiting fellow at JICA-RI, moderated the session and JICA-RI researchers introduced the project.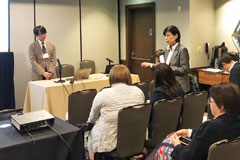 Nobuko Kayashima, principal research fellow at JICA-RI, presented background information related to studying abroad in ASEAN countries and a summary of the project. Sarah R. Asada, an assistant professor at Kyoritsu Women's University, and Sae Shimauchi, an associate professor at Tokyo Metropolitan University, both members of the research project, introduced the mapping of the impacts of studying abroad revealed by a literature review. Shimpei Taguchi, a JICA-RI staff member, gave an overview of study abroad scholarship programs in Indonesia, and Naoki Umemiya, director of Technical and Higher Education Team, Human Development Department, JICA, shared case studies on the transition of study abroad destinations for academic professionals at the Institut Teknologi Bandung in Indonesia. Atsushi Tsujimoto, a research officer at JICA-RI, presented the preliminary findings of the first field visit in Cambodia, Indonesia, Malaysia and Vietnam, categorizing the impacts by the individual level, organizational level, society level and bi-national relation level.
During the question and answer session, one participant asked about the ultimate purpose of the research. Kayashima answered that the main objective is to investigate the impacts of study abroad, on both the individual perception of the academic professionals and the development of the universities they come from. She said the research aims to offer policy suggestions based on the findings. The 20 or so experts attending the session held a lively discussion with many comments and questions raised.