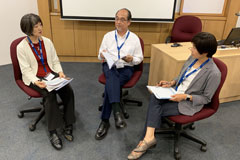 JICA Research Institute researchers participated in the International Studies Association (ISA) Asia-Pacific Conference 2019, held between July 4 and 6 at Nanyang Technological University in Singapore, to share their research findings at the roundtable "Evolution of Human Security in ASEAN and beyond during the era of SDGs: bridging norms and practice."

After a brief introduction to the topic of the roundtable by chair Sachiko Ishikawa, a senior advisor at JICA, Yoichi Mine, a visiting fellow at JICA-RI and professor at Doshisha University, described the background and outlined the research findings of the JICA-RI project "Human Security in Practice: East Asian Experiences." Mine underlined that the first phase of the research was focused on human security norms throughout the East Asian region, while the second phase was focused on regional cross-border collaboration to face challenges related to contemporary human security threats, such as natural and man-made disasters.

Ishikawa followed with a brief exposition on a chapter she contributed to the book entitled "Human Security and Cross-Border Cooperation in East Asia," which is an outcome of the project's second phase. Her chapter "The Protracted Crisis in Mindanao: Japan's Cooperation and Human Security" portrayed Japan's contributions to the resolution of a protracted conflict situation in Mindanao, which has been posing a significant threat to human security in the region.

Ako Muto, a senior research fellow at JICA-RI, introduced the concept of a coming JICA-RI research project on human security. As previous projects were focused on the importance of "top-down protection" from the state in the context of human security, this new project intends to focus on topics related to "bottom-up empowerment" and "dignity." In the coming research, the respective case studies intend to underline the role of local actors in human security, while drawing attention to different practices of empowerment in Southeast Asia and focusing on those who were left behind.

In this context, Rui Saraiva, a research fellow at JICA-RI, raised the questions of whether concepts such as "empowerment" and "dignity" derive from Western perspectives and Western models of social organization, and whether related policy practices and conceptual interpretations depend on political, socio-economic and cultural contexts. To answer these questions while exploring the meaning of empowerment and dignity in the context of human security in Southeast Asia emerges as a line of research that will assist development practitioners and peacebuilders in the region.

The debate was extended to the floor on the question of whether "empowerment" and "dignity" are context-specific. Scholars from the UK, Austria, Turkey, Malaysia, Singapore and other countries actively participated in this discussion and provided their feedback on JICA-RI's Policy Note "Revisiting Human Security: Recommendations from a Research Project Targeting Eleven East Asian Countries." This academic exchange at ISA Asia-Pacific 2019 allowed JICA-RI's Peace and Development team to develop more consistently the conceptual framework that will serve as the basis of the coming project on human security.

External Links