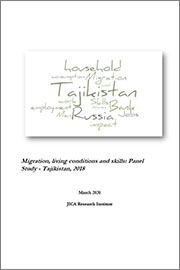 The JICA Ogata Sadako Research Institute for Peace and Development published a report titled, "Migration, Living Conditions, and Skills: A Panel Study - Tajikistan, 2018" as the outcome of the research project "Study on Remittances and Household Finances in the Philippines and Tajikistan."

The project analyzed the effects of overseas remittances from migrants working overseas on household finances and whether such remittances have been channeled into investments in their hometowns. Toward this end, a survey was conducted on migrants and their households in the Philippines and Tajikistan. The project aimed to provide new insights regarding an international development dialog on migration, remittances, and policy formulation.

The aforementioned report analyzed data from surveys conducted in 2018 to explore the migration situation in Tajikistan. Furthermore, it provided episodes from focus group discussions according to four thematic topics, namely, migration cycles, migration cost, migration skills, and remittances.