On Nov. 28-29, 2020, scholars and practitioners engaged in the field of human security convened for the 10th Annual Conference of the Japan Association of Human Security Studies (JAHSS), spearheaded by Chubu University. This year, the conference was held completely online because of the COVID-19 pandemic. This year's theme was "Climate Change and Human Security: A Digital Earth Approach." Some of the activities in the Peacebuilding and Humanitarian Support Research Cluster of the JICA Ogata Sadako Research Institute for Peace and Development (JICA Ogata Research Institute) were highlighted and presented at this year's conference.
During the first plenary session on "Human Security, Climate Change and SDGs," Special Adviser to the Secretary-General on Human Security in the United Nations Takasu Yukio introduced the English translation of the Japanese book "SDGs and Japan: Human Security Indicators for Leaving No One Behind," which is now available on the website of the JICA Ogata Research Institute. This book visualizes the challenges in human security in the respective prefectures of Japan through the indicators of survival, livelihood and dignity, and qualitative analysis of specific groups that tend to be left behind. He emphasized that the book initiated one of the practices of human security in Japan.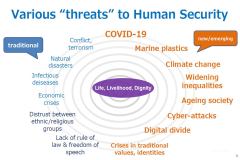 On the second day of the conference, the Session entitled "Contextualizing Human Security in Today's World" brought together JICA's human security-related activities and research. JICA Ogata Research Institute Visiting Fellow Oscar A. Gómez presented an overview of a joint collaboration between the United Nations Development Programme (UNDP) and JICA for the coming Human Development Report 2020. Executive Senior Research Fellow Muto Ako presented JICA's position on human security in today's global context, and JICA Senior Advisor on Peacebuilding Ishikawa Sachiko announced the ongoing research project "Human Security and the Practices of Empowerment in East Asia" and how its theme and research instruments adapted to the current global health emergency. Professor Nishikawa Yukiko of Doshisha University was the chair. This session bridged research and practice with a lively exchange of views on the concept of human security and the significance of reconsidering the downside risks of development within the overall concept of security.

Finally, Research Fellow Lisette Robles presented, in the session on "Climate Change and its Impact on Human Security," her paper about climate-induced migration as a human-security issue. Based on her previous study of Typhoon Haiyan in 2013, she reflected on protection and empowerment strategies for Internally Displaced Persons (IDPs) as means of understanding displacement.

This two-day conference was held among academic activities in and out of Japan that thrive despite the limitations brought by COVID-19. It continues to be a relevant platform to share and exchange human security ideas and concepts that are timely and critical.