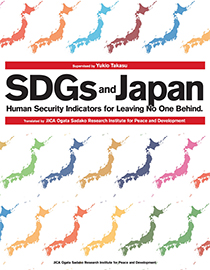 The JICA Ogata Sadako Research Institute for Peace and Development released a book entitled "SDGs and Japan: Human Security Indicators for Leaving No One Behind" in November 2020.

The Sustainable Development Goals (SDGs) are call for action by all countries, both developing and developed, including Japan. Based on a core principle of the SDGs, "Leave No One Behind," Japan is also required to examine if its citizens' survival, livelihood and dignity are ensured in a society in which everyone lives a life worthy of a human being.

This book introduces the Human Security Indicators of Japan, which were compiled to identify visually by prefecture who, where and how people are often being left behind. It discusses who and what to focus on in addressing human security issues by sector.

This book is a translation of a Japanese book published by Akashi Shoten in November 2019.

The book can be downloaded from the link below.