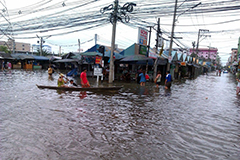 In April 2021, the paper entitled "Effectiveness of Investing in Flood Protection in Metropolitan Areas: Lessons From 2019 Typhoon Hagibis in Japan," written by Ishiwatari Mikio, was published online in the International Journal of Disaster Resilience in the Built Environment.

The study demonstrates the effectiveness of investing in flood protection measures in Tokyo by analyzing the severity of flood damage caused by Typhoon Hagibis, which unleashed a record-breaking rainfall on Japan in October 2019. The paper presents practical implications for countries and cities facing flood risks due to climate change.

This paper was written as part of a research project entitled "Research on Demand Estimate on Infrastructure in Asia," conducted by the JICA Ogata Research Institute.

The paper can be downloaded from the following page.