JICA Ogata Sadako Research Institute for Peace and Development (JICA Ogata Research Institute), the Asian Development Bank (ADB) and the Asian Development Bank Institute (ADBI) co-hosted "Regional Conference on the Health and Socioeconomic Well-Being of Older Persons in Developing Asia: Role of Individual and Household Data" via Zoom on Sept. 7-9, 2021.

JICA and ADB have collaborated on the issues of population aging in Asia and their partnership led to this conference. The purpose of the conference is to explore the role of data in supporting the health and socioeconomic well-being of older persons in Asia and to generate policy recommendations for improving data development aimed at raising their quality of life after the pandemic. Prior to the conference, the organizers invited submissions of original, unpublished papers that examine the physical, mental, social and economic well-being of older persons in Asia. Seventeen papers were selected through the call for papers and were presented at the conference.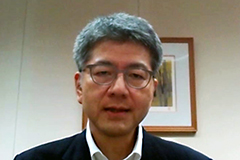 On Sept. 7, JICA Ogata Research Institute Executive Director Takahara Akio was one of three people giving opening remarks at the beginning of the conference, which consisted of five sessions. He explained the theme of the conference and said, "Utilization of micro data is indispensable for planning and implementing effective measures in meeting the challenges of an aging society." Takahara also said "JICA has been tackling the issues of ageing in Asia since the mid-2000s based on Japan's own experience. Specifically, we have made policy recommendations and extended technical cooperation for the designing of social security systems, human resource development for long-term care services and other related areas in Asian countries such as Thailand, Malaysia and China. We will continue to work on the problem of ageing by reinforcing the social security system and the health system with a view to establishing Universal Health Coverage."

On Sept. 8, Session 3A: Social Protection and Safety Net was held, in which four presentations were delivered based on papers submitted for the event. Shimizutani Satoshi, executive senior research fellow, JICA Ogata Research Institute, chaired the session.The session included topics such as implications of pension reform options for labor supply and individual welfare in China, issues on the capacity to implement a social transfer program targeting extreme poverty in Bangladesh, the effectiveness of insurance mechanisms for the elderly in China, and inequality of access to social welfare programs for older people in Indonesia. Reflecting on the session, Shimizutani stated that the presented papers were excellent and policy-oriented. He also commented that all the papers used micro-level datasets and some of the papers used harmonized datasets on the middle and older generations, saying they are good examples that make us realize the importance of the effort toward internationally comparable datasets.
Related Links