On Feb. 14, 2022, Takahara Akio, executive director of JICA Ogata Sadako Research Institute for Peace and Development (JICA Ogata Research Institute), participated in the Happiness Idea Conference 2022 (HAPIC 2022), an online event hosted by Japan NGO Center for International Cooperation (JANIC). JANIC is a platform organization that facilitates networking among Japanese NGOs working on international cooperation.

HAPIC is a conference to discuss solutions for global social issues and this was the third time it took place. Its opening session was titled "Redesigning Japan's Diplomacy and International Cooperation in an Era of Domination by the US and China: Japan's Roles in Protecting Democracy from Danger and Working Toward a Sustainable World." It was moderated by Wakabayashi Hideki, who was executive director of JANIC at the time. Takahara participated and exchanged views with Kono Taro, member of the House of Representatives and the former Minister of Foreign Affairs, Saruta Sayo, president of the New Diplomacy Initiative, and Motoki Keisuke, chairperson of JANIC.

Firstly, Kono pointed out that in today's global community, which can be seen as being in the middle of the Second Cold War caused by heightened tension between the US and China, Japan should fulfill its roles collectively as one. He said that this should be done not through military force but by collective efforts by the government, industries and NGOs and utilization of Japan's charms including its culture.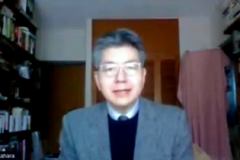 Considering how human security is one of the pillars of Japan's diplomacy, and with today's heightened sense of insecurity around the world due to the tension between the US and China, the COVID-19 pandemic and the increased number of natural disasters caused by climate change, Takahara stressed that the realization of human security is becoming more important than ever. He then said that more countries are becoming politically unstable, but non-interventionism imposes limits to what assistance nations can provide. While there is growing anticipation for civil society to take active roles, collaboration between NGOs and academics could lead to more appropriate support. Furthermore, on the diplomatic relationship with China, Takahara pointed out that two attitudes need to be persistently maintained: one is to continue dialogues; and the other is to show our disapproval when we should.

Saruta pointed out that the line between international cooperation on development and security is blurring recently, even though the two are different things; the former is about activities that aim for peace and safety of all mankind and environmental conservation, whereas the latter is mainly about defense of a nation. She said that instead of unifying international cooperation on development and security, the perspective of the long-term benefits of international cooperation on development for the Japanese people needs to be considered as something important. Moreover, she emphasized that while voices asking for more prioritization of human rights and human rights diplomacy as part of measures against China are becoming louder, we should make human rights truly respected, rather than having human rights respected based on opportunism.

Motoki commented from the perspective of civil society. He said that while NGO activities try to solve social issues, it has a positive side effect of enhancing spontaneous development from long-term perspectives such as human capacity building. The strength of civil society is that it is rooted within communities and steadily keeps on working to create a society where people can respect one another. Motoki then remarked that building networks in civil society beyond frameworks like nations and capital is precisely important for strengthening our world's resilience.

In the discussion that followed, many topics were covered, including types of diplomacy and international cooperation which only Japan can take up, the need to establish some strategies to achieve good governance, support from the government for NGO/NPO development, and networking between human resources of public and private sectors. Here, Takahara noted that the concept of human security is broad and its outline is not so clear-cut, but empowerment to strengthen the capacity and ownership of the people to counter a wide range of threats is at the basis. He commented that to disseminate the concept of human security, we need to examine, for instance, how JICA projects lead to the strengthening of the capacity and agency of the people in developing countries. Upon doing so, we need to focus on the indigenous capacity of the locals themselves.

The session ended with all speakers confirming that for the development of Japanese diplomacy and international cooperation, networking and flexibility of human resources of public and private sectors are crucial and collaboration/cooperation among various sectors is important.