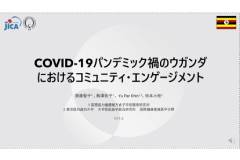 The 37th Congress of the Japan Association for International Health was held as a hybrid event (in-person and online) at the Aichi Prefectural University Nagakute Campus on Nov. 20, 2022. Saito Kiyoko, senior research fellow, JICA Ogata Research Institute, gave a presentation about the research project "Community Engagement in Uganda Amidst the COVID-19 Pandemic."

The objective of this study was to analyze how community engagement functioned when COVID-19 was spreading rapidly in Uganda, where resources are limited and healthcare systems are weak. In order to understand how local residents subjectively perceive community engagement, data were collected from residents of Wakiso, an urban area, and Ngora, a rural area, and a comparative analysis was carried out.

In the comparative analysis, the following three indices were identified to measure subjective perception:
(1) risk perception—fear toward COVID-19
(2) community engagement—reputation of organizational assistance among the locals, reputation of assistance at the individual level among the locals, and self-evaluation by the locals with regards to their involvement and contribution to assistance activities
(3) community capacity—the locals' trust in the communities they belong to, and their awareness on the need of mental and economic support.

Results showed that even when urban residents received more assistance than rural residents, the level of satisfaction among the former was the same as that among the latter. In addition, rural residents had more trust in their communities than urban residents. Furthermore, it was suggested that the capacity to make decisions relevant to how to address the risks of COVID-19 and to implement these decisions by themselves was greater among rural residents than urban residents, thereby giving greater resilience to the former.

A Q&A session followed Saito's presentation. One audience member commented that upon thinking about future healthcare systems, it is important to analyze the autonomous health maintenance activities by the locals when they were unable to access hospitals because of the COVID-19 outbreak, and to consider ways to promote them. Active discussion around resilient societies followed.