Project History is a publication series by the JICA Ogata Sadako Research Institute (JICA Ogata Research Institute) that reviews the trajectories and achievements of technical cooperation, financial cooperation and volunteer programs conducted by JICA in developing countries.

JICA has published the second comic book in this series titled "Regional Revitalization in Japan Brought About by Bangladeshi IT Professionals: A New Form of International Cooperation Connected from Volunteers to Industry, Government and Academia."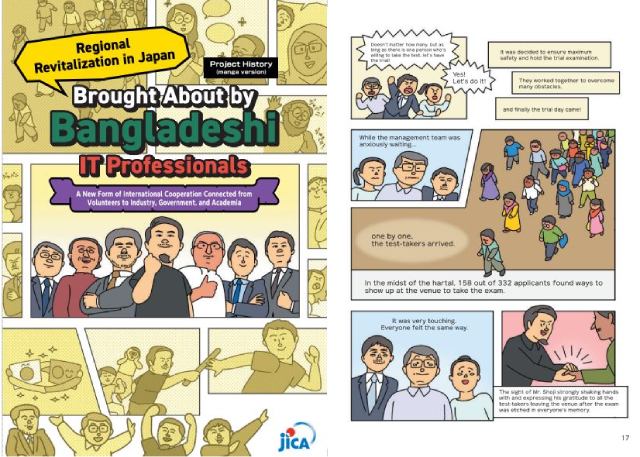 The story starts in 2008. Japan Overseas Cooperation Volunteers (JOCVs) who were sent to Bangladesh started a movement for human capacity building in IT fields. This developed into a technical cooperation project by JICA which then led to the introduction of a national qualification system to Bangladesh in 2014, based on the Information Technology Engineers Examination (ITEE) of Japan.

What is more, thanks to various keypersons who served as bridges between Bangladeshi IT professionals and Japan, nearly 200 alumni of the Bangladesh-Japan ICT Engineers' Training Program (B-JET) supported by a JICA technical cooperation project, are playing important roles throughout Japan. This adds up to more than 70% of all alumni of this program. The trajectory of this project spanning over 14 years is receiving a lot of attention as a new model for international cooperation in which challenges in both developing countries and regional revitalization in Japan are addressed.

JICA Ogata Research Institute has so far published four English-language books in this series, and its information is found in the link (Project History) below. This comic is translated from a text-based Japanese book, which is available only in Japanese. This English comic book can be accessed through the following link.


Related Links