The 20th session of the Conference of the Parties to the United Nations Framework Convention on Climate Change (COP20) took place in Lima, Peru from December 1 to 12, 2014. JICA-RI Senior Research Fellow Tomonori Sudo participated and hosted two side events on the themes of urbanization and climate financing at the Japan Pavilion at the conference.
"Urban, Climate Change and Finance" (15:00 – 16:30, December 5)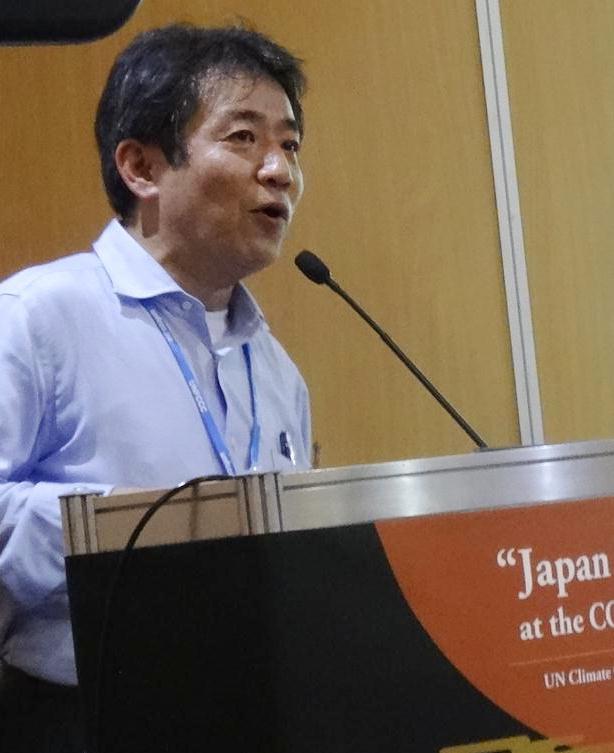 Tomonori Sudo

Rapid urbanization is one of the emerging issues in the world. According to UN, nearly 70% of the world's population will live in urban areas by 2050, where also 90% of economic activities will be concentrated. Unplanned population and economic growth will cause serious problems in urban areas such as high energy consumption, traffic congestion and environmental degradation. The objective of this event was to seek a practical and realistic vision for "Low-carbon and climate resilient cities", which can enrich the discussions on the role of cities in climate change agenda. The event aimed to gather practical views from various stakeholders in developing and developed countries and international agencies, and identify practical challenges and opportunities to achieve this vision. Experts from Columbia University, Universiti Teknologi Malaysia, World Resources Institute (WRI), the French Development Agency (AFD), and the Organisation for Economic Cooperation and Development (OECD) participated in the event as panellists.
To kick of the session, Sudo firstly raised several questions on the policy to realize climate resilient cities and the use of development funds. He also introduced JICA's experiences such as developing the Bangkok Master Plan on Climate Change, support for low carbon infrastructure investment in India, the cases of adaptation and disaster risk reduction measures in Asian cities. Some of the points he emphasized in his presentation included: the importance of the formulation and implementation of appropriate master plans, good coordination among stakeholders, and strengthening of fiscal management capacity by municipalities.
The panellists shared experiences such as urban development and transportation infrastructure in Malaysia as well as policies and the initiatives of the respective organizations such as OECD and AFD. The participants identified significant issues to realize "low-carbon and climate resilient cities" as policy-making based on scientific evidence, the promotion of private partnerships, and the catalytic role of public funds for mobilizing private and other resources.
The summary of this event is also available on the website of Japan Pavilion
http://www.mmechanisms.org/e/cop20_japanpavilion/files/12051500_Report_E_rev.pdf
The presentations at this event are available for download from the link below.

"Climate Finance and the Role of Development Finance Institutions" (13:00 – 14:30, December 6)
USD 100 billion of climate finance is expected to be available by 2020 for supporting developing countries activities addressing climate change. However, one of critical issues would be on "how to use climate finance effectively to achieve climate compatible development?" There are valuable lessons learned from long experience of develop financial institutions. The objective of this event was to seek valuable lessons from experiences of development finance institutions and identify challenge and opportunities to apply such lessons into climate finance. The experts from the KfW Development Bank, AFD, the Development Bank of Latin America (CAF), WRI, OECD, Institute for Global Environmental Strategies (IGES), and Green Climate Fund (GCF) joined the session.
To open the discussion, Sudo raised several key questions on the critical elements for effective use of climate finance, and the challenges and opportunities for better use of finance. He also introduced the Latin America and Caribbean Sustainable Energy Project by JICA's overseas loan and the case of Stand-by Emergency Credit for Urgent Recovery. He pointed out the importance of the mainstreaming of climate change in development, the generation of co-benefits, ownership by developing countries, and various resource mobilizations catalysed by public funds.
Panellists shared the assistance strategies for climate change by each organization and lessons learned from their experiences. Through the discussion, it was confirmed that speed of assistance, investment on project with high adaptability, consideration of investment cost, and result-based investment are important.
The summary of this event is also available on the website of Japan Pavilion
http://www.mmechanisms.org/e/cop20_japanpavilion/files/12061300_Report_E.pdf

The presentations at this event are available for download from the link below.
Besides the two events organized by JICA-RI, Sudo joined at a side event organized by the Indonesian Government entitled "Mainstreaming Green Financing." Indonesia pledged a 26% greenhouse gas reduction in a business as usual case, and a 41% reduction with international assistance by 2020. In order to achieve these reduction goals while maintaining appropriate economic growth, the Ministry of Finance of Indonesia is engaged in the effective use of public climate change funds. In this event, the Ministry of Finance of Indonesia introduced an overview of the domestic flow of climate change funds, climate change budget tagging at the state and local levels, and the 2015 – 2020 green planning and budgeting strategies. Participating as a panellist, Sudo argued that the improvement of investing environment for climate financing and mobilizing various financing resources to respond a wide range of needs, and the role of public funds should be considered, while referring to his research results on green growth.

●Presentations
"Urban, Climate Change and Finance" (15:00 – 16:30, December 5)
Dr. Tomonori Sudo, Senior Research Fellow, JICA Research Institute
Urban_climate_change_and_finance_Setting the scene.pdf
Urban_climate_change_and_finance_JICA's_approach.pdf
Dr. Radley Horton, Associate Research Scientist, University of Columbia /NASA Goddard Institute for Space Studies
The_urban_cllimate_change_research_network.pdf
Professor Chin Siong Ho, Faculty of Built Environment, Universiti Teknologi Malaysia (UTM)
Science_into_action_Realizing_low_carbon_society_The_case_of_Iskandar_Malaysia.pdf
Mr. Hervé Breton, Senior advisor, Climate Change Division, Agence Française de Développement (AFD)
AFD's_Climate_development_approach_in_the_Urban_sector.pdf
Dr. Benoit Lefevre, Director, Energy & Climate, WRI Ross Center for Sustainable Cities - EMBARQ World Resource Institute (WRI)
Low-carbon_cities_why_What_How.pdf
Dr. Jan Corfee-Morlot, Head - Climate, Environment and Development Unit, Development Co-operation Directorate, Organisation for Economic Development and Cooperation (OECD)
OECD's_work_on_climate_urban_and_development.pdf
"Climate Finance and the Role of Development Finance Institutions" (13:00 – 14:30, December 6)
Dr. Tomonori Sudo, Senior Research Fellow, JICA Research Institute
Climate_finance_and_the_role_of_development_finance_institute.pdf
Climate_finance_and_the_role_of_development_finance_institutions_JICA's_approach.pdf
Ms. Katrin Enting, Sector Economist, Competence Center for Environment and Climate, KfW Development Bank
Climate_development_finance_KfW.pdf
Ms. Ophélie Risler, Chef de Projet, Agence Française de Développement (AFD)
Climate_finance_and_the_role_of_development_finance_institute.pdf
Ms. Stephanie Ockenden, Economist/Policy Analyst, Climate Finance and Green Growth, Development Co-operation Directorate, OECD
Climate_related_development_finance_Quantity_and_Quality.pdf
Mr. Tao Wang, Director Mitigation and Adaptation, Green Climate Fund
State_of_play_update_from_the_Green_Climate_Fund.pdf
Dr. Yuqing Ariel Yu, Task Manager (Climate Finance); Senior Policy Researcher, Institute for Global Environmental Strategies (IGES)
Finance_for_international_of_mitigation_technologies.pdf
| | |
| --- | --- |
| Day | December 01, 2014(Mon) - December 12, 2014(Fri) |
| Place | Lima, Peru |