On July 6, 2019 «One Village One Product» project and Public Union «OVOP+1» took part in the International Aizome Forum organized by Shikoku University in Tokushima Prefecture.
Aizome is a traditional Japanese indigo color paint.
Tokushima Prefecture, located in Shikoku region in Japan, is popular for Awa-Ai, a traditional Japanese indigo dye technique, which also known as Japan Blue in the world.
Shikoku University in Tokushima Prefecture is implementing the program, which aims on creation of the new value of the Awa-Ai.
During the Forum, participants from Japan, USA, Taiwan and Kyrgyzstan shared their experiences, researches and business models of Aizome.
OVOP project introduced activities and challenges in creating blue color – color of Issyk-Kul Lake through Aizome dyeing techniques utilizing local Usma (woad) leaves, which was transferred to OVOP project by the professor of the Shikoku University, Ms. Noriko Ariuchi.
The project also displayed products dyed with Aizome and provided food products using Usma leaves.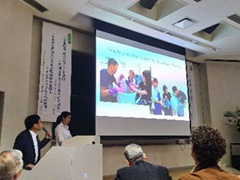 OVOP Kyrgyz Presentation.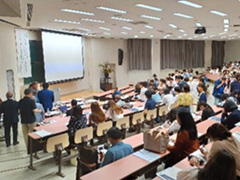 International Forum Aizome.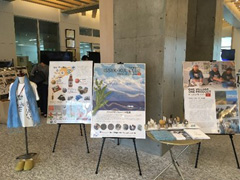 Display of products dyed in Blue color Issyk-Kul from local woad.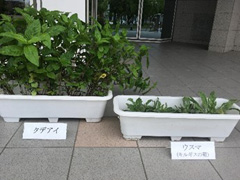 Japanese indigo and Kyrgyz woad.