On September 30 2019, the 4th Joint Coordinating Committee Meeting on the OVOP project was held.
Avtandil Alybaev, Deputy Minister of Economy of the Kyrgyz Republic, noted the contribution of the OVOP Project to regional development, which is a priority direction for the Government of the Kyrgyz Republic. He also emphasized the importance of promoting export-oriented products and branding.
During the meeting, as a successful example of a development of brand products the First National brand product competition "Brand Taimash -2019" was introduced. Currently, five main OVOP shops operates in Bishkek, Osh, Karakol, Naryn and Talas. In addition, OVOP products are also presented in hotels, coffee shops, department stores etc. and the total number of sales point is 65. The total sales for 2018 was more than 31 million KGS, and that for the period from January to August of 2019 was more than 24 million KGS. Felt and honey products exported to Japan, Europe, America and China.
Participants noted the importance of organizing such platforms for the information exchange and problem solving by joint efforts to achieve the goals of the Project.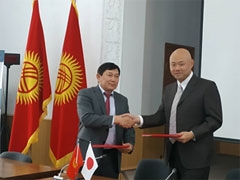 The signing of Meeting Minutes of the 4rth JCC Meeting of OVOP Project.
Presentation about OVOP activities.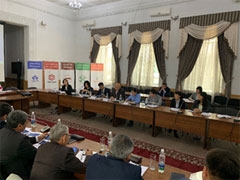 Discussion among meeting participants.