On 25th of October 2019, JICA Executive Senior Vice President, Mr. Koshikawa, attended an opening ceremony of a felt production workshop in Kara-Shaar village, which is supported by "One Village One Product" (OVOP) technical cooperation project.
The workshop will provide a working place for women in the village and they will produce Issyk-Kul Brand felt goods including those for Muji Company, a Japanese international retail company.
A goal of the OVOP project is to activate local communities for job creation and economic development in regions of the Kyrgyz Republic.
Mr. Koshikawa stated, - "I am very glad to hear that the project, which is being implemented by JICA in Issyk-Kul region, wants to be extended to other regions of the republic. I was convinced personally that the products are very high quality and environmentally friendly."
During his visit to Kyrgyzstan, Mr. Koshikawa had bilateral meetings with the Prime Minister of the Kyrgyz Republic, Mr. Abulgaziev M. and the Minister of Culture, Information and Tourism in the KR, Mr. Zhamankulov A.K.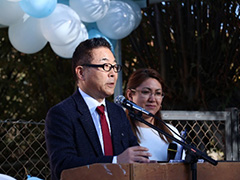 Welcome speech from JICA Executive Senior Vice President.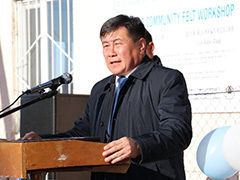 Welcome speech by the Plenipotentiary representative of the government in Issyk-Kul region.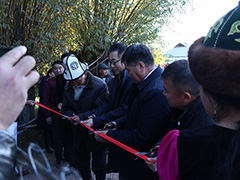 Official opening, tape cutting.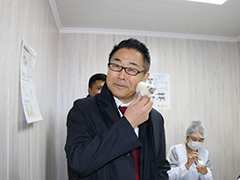 Mr. Koshikawa likes OVOP felt product.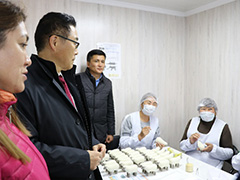 Kara-Shaar village workshop visit.