On 28 April 2019, the Ground Breaking ceremony of "the Project for the Construction of New Yangon Specialist Hospital" by the cooperation of Department of Medical Services (DoMS) and the Japan International Cooperation Agency (JICA) was held at the construction site of New Yangon Specialist Hospital.
In this ceremony, H.E Dr. Myint Htwe, Union Minister of Health and Sports (MoHS), H.E Mr. Ichiro Maruyama, Ambassador Extraordinary and Plenipotentiary of Japan to the Republic of the Union of Myanmar, H.E U Phyo Min Thein, Chief Minister, Yangon Regional Government, Mr. Masayuki KARASAWA, Chief Representative, Japan International Cooperation Agency (JICA) delivered the speech.
Under Japanese Grant Amount of 8.661 billion Japanese Yen (JPY8, 661,000,000), which is the largest amount of Japanese ODA grant aid project in Myanmar, a new seven (7) stories building with teaching functions, will be constructed by relocation of the selected four clinical departments for Neurosurgery, Neuro Medicine, Cardiac Surgery and Cardiology of Yangon General Hospital as a top referral hospital of Myanmar. The government of Myanmar will take responsibility to procure equipment required for the new facilities to improve the health services at this hospital. Its construction is expected to complete in early 2021.
This project aims to enhance patient-centered medical and healthcare services for cerebral and cardiovascular diseases in Myanmar by providing more treatment on inpatients, outpatients, and make advanced heart disease and neurosurgical operations possible. In addition to this project, JICA is carrying out technical cooperation to develop medical human resources and strengthen the health care system, comprehensively working to improve the medical as well as health care services in Myanmar.
Toward the achievement of Universal Health Coverage (UHC) by 2030 in Myanmar as MoHS' stategy, the cooperation between MoHS and JICA have been implemented under the 3 pillars: health system strengthening, human resource development and infectious disease control. In the recent cooperation, JICA have been supporting for the renovation of the general hospitals in Loikaw, Lashio, Magway and Dawei, rural health centers, the introduction of hospital management approach in Loikow General Hospital, providing PhD course for 12 Medical Doctors and short term training for 55 Medical Doctors in Japan, strengthening the capacity of 18 medical engineers, training 559 Medical Record Technicians, the development of malaria elimination model, and supporting laboratory services for HIV/AIDS and TB.
This new specialist hospital is one of the symbolic milestones of cooperation between the new governments of Myanmar and Japan toward achieving UHC.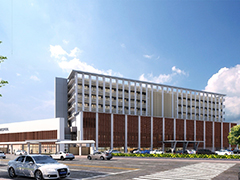 Facade Image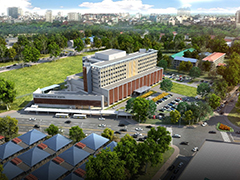 Bird's Eye View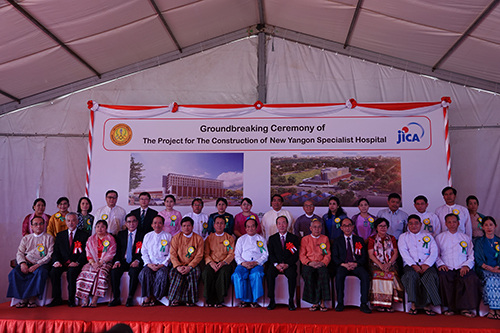 Group photo