The Japan International Cooperation Agency (JICA) and the Yangon City Development Committee (YCDC) successfully installed the very first Continuously Operating Reference Station (CORS), which may improve the accuracy for mapping in Yangon.
This is about the Project on Yangon Mapping, which started from November 2017 aims to improve mapping in order to secure the quality of urban infrastructure. Up to date, the geospatial data have delivered: 1) 1: 5,000 scale digital topographic maps and 3D building maps for area inside Yangon Outer Ring Road (1,504 km2), and 2) 1: 10,000 scale digital topographic maps for southwest suburbs of Yangon (1,100 km2). These products are now contributing implementation of the urban management and transportation projects.
Meanwhile, this August, the first CORS have installed at five (5) locations of Yangon Region. CORSs constitute the advanced geodetic network providing continuously monitored spatial data, which enable more cost effective survey work. By having CORS, it is expected to produce more efficient and improved maps.
JICA and YCDC organized the Final Seminar of the Project and Handing Over Ceremony for CORS on 28th August 2019 at the PARKROYAL Hotel in Yangon. This seminar aims to celebrate the first installation of CORS in Myanmar as well as to summarize the Project on Yangon Mapping. Moreover, the Geospatial Information Authority of Japan (GSI) delivered the keynote speech to promote the utilization of CORS based on Japanese experience.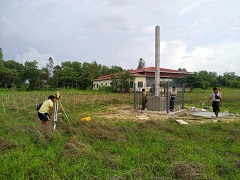 During construction of CORS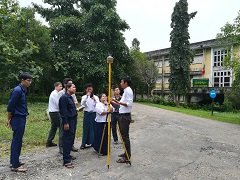 Practical Training for Rover Inspection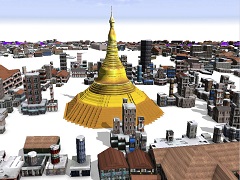 3 Dimensional Map- one of the Product of Project on Yangon Mapping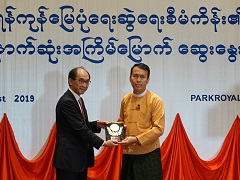 "Handing over from Mr. Masayuki Karasawa, Chief Representative of JICA Myanmar to H. E. U Phyo Min Thein, Chief Minister of YRG"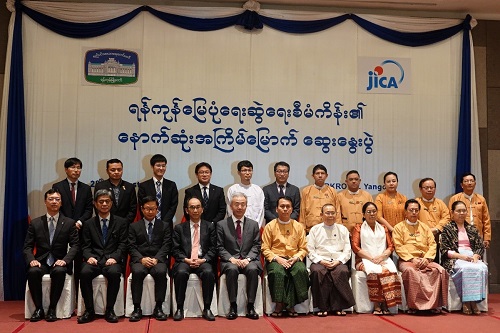 "Group photo of concerned officials from Myanmar and Japan side"