Kayin, 31 October 2019
JICA/ Japan, together with Ministry of Construction (MoC) of Myanmar, started construction of Gyaing-Kawkareik Bridge in Kayin State to connect Myanmar with other parts of ASEAN physically through East-West Economic Cooridor. This is about the Groundbreaking Ceremony held on 31 October 2019 of the said bridge.
The Gyaing-Kawkareik bridge crosses Gyaing river at Gyaing Village and connecting Myawaddy and two capital cities of Kayin State and Mon State. It is 4-lane Bridge with the length of 580 meter (1902 feet) and expected to be completed in the middle of 2021.
The bridge is a part of series of the construction of East-West Economic Corridor. JICA/ Japan will construct three international standard bridges, namely, Gyine-Zarthapyin Bridge, Atran Bridge and this Gyine-Kawkareik bridge. For those three bridges construction, JICA extended Concessional Loan, total amount of 33.869 billion Japanese Yen- where physically improve bottlenecks on the East West Economic Corridor. The construction of the three bridges will be completed by 2023.
East West Economic Corridor is one of the strategic corridors since 35% of GDP comes from this corridor and around 28% of population are living there. It also contributes to the smooth border trade with Thailand, which is the second largest export and third largest import country for Myanmar in 2018. As Myanmar government identified this corridor as priority corridor in the National Transport Master Plan, East West Economic Corridor contributes to keeping up the growing of both freight and passenger traffic demands for the future.
The Second Thai-Myanmar Friendship Bridge opened on 30 October 2019, the previous day of the said groundbreaking. "The transport of large volume of freight coming through the Second Thai-Myanmar Friendship Bridge would be facilitated by JICA supported three bridges upon completion. JICA strongly believes that these bridges will contribute to the improvement of connectivity between Myanmar and Thailand, the development of cities along the corridor in Yangon, Mon, and Kayin, and the safe and reliable transport networks especially freight transport from Bangkok to Thilawa SEZ," said Mr. Masayuki Karasawa, Chief Representative of JICA Myanmar Office.
In addition to the construction of East-West Economic Corridor with other development partners, JICA has also been continuously supporting the transport sector reform in Myanmar with a variety of modalities through various channels. For example, large-scale railway – such as Yangon-Mandalay Railway- together with technical cooperation, construction of a new bridge across Bago river towards Thilawa Special Economic Zone, dispatching Policy Advisors in the area of Transportation. On top of these ongoing supports, JICA is going to start a new technical cooperation project to develop capacities of engineers for operation and maintenance of road and bridge in the beginning of November 2019.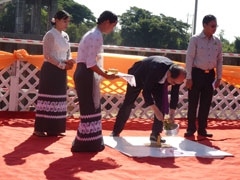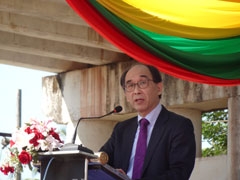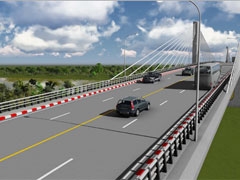 Overview of Gyaing-Kawkareik Bridge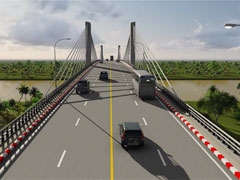 Overview of Gyaing-Kawkareik Bridge