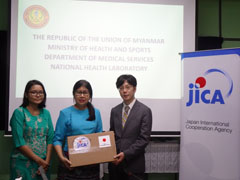 Yangon, February 25, 2020 -
As a countermeasure against the new coronavirus (COVID-19) in Myanmar, responding to an urgent request from the National Health Laboratory (NHL), JICA had decided to provide primer and testing reagents (equivalent to 400,000 yen in total) which is used to test for the rapid detection of the new coronavirus. On 24 Feb 2020, at NHL, we had handed over first batch of the primer.
As of February 24 (20:00), there are 40 Person under Investigation/ suspected cases and all lab result show negative. Thus, Myanmar had confirmed 0 infected case. Considering the global increase in confirmed cases, the Myanmar government keeps on highest alert.
Initially, NHL performed the parallel testing for COVID-19 with WHO's designated laboratory and the lab result of NHL and WHO's designated laboratory showed consistent result. NHL is performing independent testing for COVID-19 starting from 20 Feb 2020.
NHL has been designated by the Ministry of Health and Sports of Myanmar (MoHS) as the leading institution to perform definite diagnosis of suspected cases in the country.
Myanmar has been facing relatively higher rate of infection rate of major infectious diseases compared with other ASEAN counties and required to strengthen its capacity to respond and diagnose infectious diseases. Since 2005, through Japan's government development assistance (ODA), JICA has been providing the technical cooperation to enhance the country's capacity to handle major infectious disease.
In the ongoing technical cooperation "Adviser for Infectious Disease Control and Laboratory Services", Dr. MIYANO Shinsuke, JICA Expert is providing technical advices on national strategies on major infectious diseases such as HIV/AIDS and TB, antimicrobial resistance (AMR) and strengthening the capabilities of inspection in collaboration with NHL. This support is a part of the project.
JICA, under a leadership of the Government of Japan, will continue to support the Government of Myanmar to combat with COVID-19.