Islamabad; April 18, 2019: Pakistan is an agriculture-based country. Agriculture accounts for 19.53% of the GDP and provides livelihood to 42.3% of the rural population (Pakistan Economic Survey 2016-17). Almost 89% of total farms are small farms with less than 5 hectares of landholding (Pakistan Agriculture Census 2010). The small farmers mainly produce subsistence crop but some of them produce cash crop to sell in the neighboring market.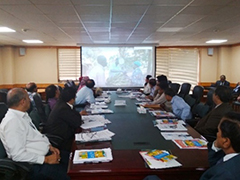 SHEP Introduction in the workshop
Smallholder Horticulture Empowerment & Promotion (SHEP) is a flagship approach which realizes "Market-Oriented Agriculture" and converts farmers mind from "grow and sell" to "grow to sell". JICA successfully achieved doubling income of 2,500 smallholders within 2 years in African countries through this approach. The SHEP approach is not just promoting agribusiness of the farmers but the notable characteristic of the approach is to combine economic theory which is "information asymmetry" and psychology theory called "self-determination theory." SHEP approach supports farmers to obtain market information and make business plan based on the market needs by motivating farmers. So, all activities such as market survey, crops selection and stakeholder forum are conduced particularly by the farmers themselves.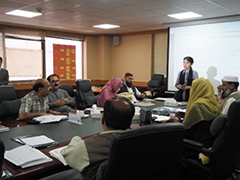 Discussion in the workshop
"Mitigating information asymmetry": Commercial transactions are carried out efficiently with mutual knowledge of the information of each of the leading actors in market distribution from the producer to the consumer.
"Self-determination theory": Motivation for continuous activities implementation can be enhanced by Autonomy, Competence and, Relatedness.
JICA has been cooperating in agriculture sector in Pakistan to improve the livelihood and income of the small famers. JICA Pakistan Office is initiating to promote dissemination of SHEP approach in Pakistan.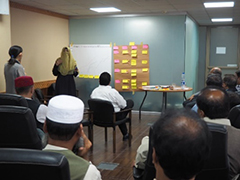 Presentation by group
As the first step of the cooperation, JICA and Planning Commission, Ministry of Planning and Development, has organized three day workshop from April 16 to April 18, 2019 in Islamabad to make Pakistan government officials understood this approach and discuss possibility of SHEP approach in Pakistan.
20 officials from Planning Commission, Ministry of National Food Security & Research, National Agriculture Research Center (NARC), CABI, Punjab Agriculture Department and Balochistan Agriculture Department participated in the workshop. Mrs. Shuto, a SHEP expert presented the outline of SHEP and JICA experiences including theory and practical case studies in other countries. In group work exercise, all participants discussed activities to achieve the goal of income increase and how to motivate the famers. The workshop was successfully conducted with full of understanding and satisfaction of the participants.
This workshop is just start of future cooperation as one of the program supporting income increase of small farmers by JICA. JICA and Planning Commission agreed to launch pilot project in near future.