November 19, 2019: Bilateral portfolio review meeting took place at Planning and Development (P&D) Department of Government of Sindh under the Chairpersonship of Ms Naheed Durrani. JICA team was led by JICA Pakistan Chief Representative, Mr Furuta Shigeki with participation from Director of JICA HQ and other relevant staff. Meeting was also attended by Secretary P&D, health, livestock, school education and literacy department and women development department along with other high officials from government of Sindh.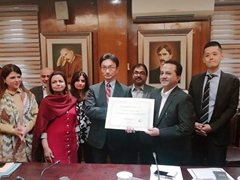 Mr. Furuta presenting President Award to Mr. Qazi
Availing of this opportunity, JICA Chief Representative on behalf of JICA President, Mr Shinichi Kitaoka, handed over the prestigious "JICA President Award 2019" to Mr Zahoor Muhammad Qazi, Assistant Director of School Education and Literacy Department, Government of Sindh.
Mr Qazi has worked with JICA as Sindh Education Department's Focal person since 2009 to date. During this time, he has played a key role in enabling JICA to assist government of Sindh in pursuit of addressing gender and rural-urban disparities in the field of education.
Currently, there are 51.53 million children in Pakistan between the ages of 5 and 16 years, out of which 28.68 million children are attending school, whereas nearly half of the school age going children, i.e., 22.84 million are still out of school.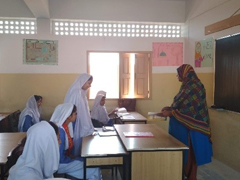 A view of one of the model school built with the assistance of JICA
JICA assisted government of Sindh with the upgrading of 54 primary girls schools into elementary/middle schools located in 14 districts of Sindh. These schools are functional with a capacity to enroll more than 6,600 girls on annual basis. These schools have enabled young girls to dream big. They want to pursue their dreams of continuing education beyond primary level. They want to become teachers, doctors and some wish to even join judiciary and police. Previously most of them could not continue their education due to the non-availability of middle/elementary school in their close vicinity. However, none of this could have been possible, without the commitment, dedication and untiring efforts of Mr. Zahoor Qazi.
Initially 133 girl's schools were proposed for upgrading, however, the challenge was how many and which schools could be covered under the Japanese Grant Aid project assistance. To examine the feasibility and ascertaining the project scope, Japanese survey team was dispatched. Mr Qazi visited all 133 potential sites with the survey team and provided invaluable contextual knowledge. Moreover, he helped in navigating the project planning process through the approvals and decision making channels by acting as a trusted knowledge bridge between government and JICA.
The project necessity was evident from the statistics as middle education net enrolment ratio for rural girls in 2012 was only 7 % compared to Sindh's provincial average of 19 %. The feasibility was also drawn from the context and through the interactions with students, teachers, and other key stakeholders. The process also strengthened the bilateral and friendly ties and cooperation among all stakeholders. All of that was brought to the visibility and to the recognition of Japanese survey team by Mr Qazi through his finest and uncountable briefings. Mr Qazi remained actively engaged not only in the planning phase but he also provided vital support during the implementation phase. He embraced coordination and communication challenges and converted them into amicable opportunities. The project enjoyed smooth implementation ride from the beginning till the end. It was made possible by Mr Qazi, who had anchored the project invisibly but surely.