On August 20-21, 2019, which is jointly implemented by Ministry of Public Health, Ministry of Social Development and Human Security, National Health Security and JICA held the 2nd National Seminar on Seamless Health and Social Services Provision for Elderly Person 2019 at Convention Room, Rama Gardens Hotel, Bangkok. About 600 persons from related agencies attended this seminar including 8 project sites from Chiang Mai, Khon Kaen, Nakhon Ratchasima, Nonthaburi, Chonburi, Surat Thani, Phuket and BMA. The objectives of this conference is to public the results of the project in collaboration with Thailand and Japan in an integration service development for elderly in pilot sites.
Day 1: The Seminar began with the presentation by the representative from the 8th model project sites in order to reach the activity plan and progress report through developed IMC model to the national level. They were quite ready to present all of the knowledge and model activities, which they have learnt from the experiences of Japan and how to use, develop for IMC service model in each their pilot sites. These were followed by the lecture on Smart Intermediate Care for Aging and Comparison of Intermediate Care for Aging in Thailand and Japan by Director of Health Administration Division, MOPH by mentioned on Model service -> Work Force -> Financial for IMC development.
In the afternoon, the Opening Remarks by Deputy Minister, MOPH. The overall picture and IMC activities of the Project reported by Deputy Permanent Secretary, MOPH. Following the Award Ceremony for Rewarding to 8 Pilot Sites due to have excellent operations in driving the project on the development of seamless care service model for the elderly under the technical cooperation between Thailand and Japan. Then, group discussion on the Roles and Supports of each sector as medical insurance, LTC insurance, innovation care model in order to run Intermediate Care for Aging Issues by MOPH, MSDHS, NHSO and DLA-MOI respectively.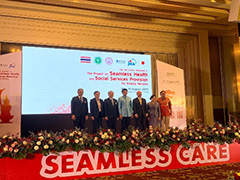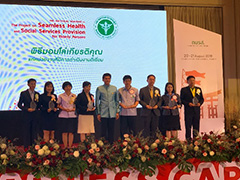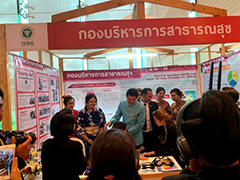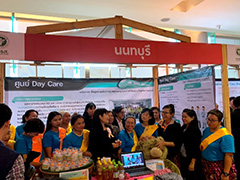 Day 2: The Seminar provides various significant lectures on Japan's Medical Insurance and LTC Insurance, Innovation that Helps to Rehabilitate the Development of Dementia Patients and Elderly" and Innovation of Geriatric and Palliative Care Model in Aging Society.
At the conclusion: The expectation is that the suitable model service in good quality and efficiency for elderly after acute phase, human resource development with expertise and policy recommendations on seamless health for elderly persons are developed for the Government.