ABOUT
JICA would like to call for system integrators (SIs) that can provide solutions of digitalizing KAIZEN processes for local SMEs in Thailand (see "Concept of Digital KAIZEN") for "Ideathon Seminar for Digital KAIZEN towards Industry 4.0 Digital".
In the event which will take place on November 29th 2019 by JICA in collaboration with Thai governmental agencies, there will be an Ideathon (ideation workshop) session inviting both SIs and SMEs to consider and propose how to use ICT solutions for SMEs to digitalize KAIZEN process as the first step to Industry 4.0. In this Ideathon, one idea (proposed by a pair of SME and one SI together) will have a chance to go into PoC (Proof of Concept) project which will be funded by JICA for 2-3 months. Afterwards, the result of the PoC project could be included in the enlightenment contents being developed by JICA as a good example. The contents will be shared with Thai stakeholders, and also used for awareness rising for SMEs about Industry 4.0 in the related JICA's projects and activities.
Overall Pilot Project Flow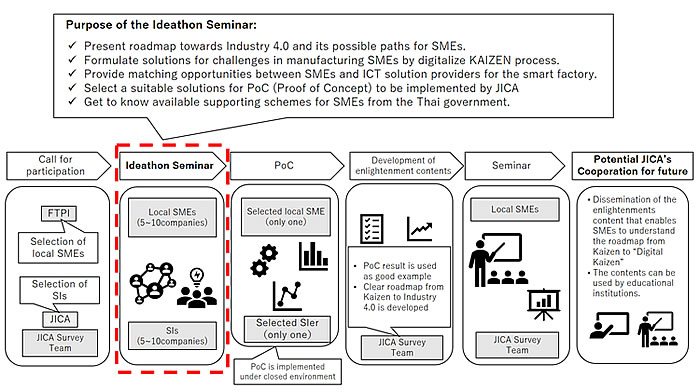 Concept of Digital KAIZEN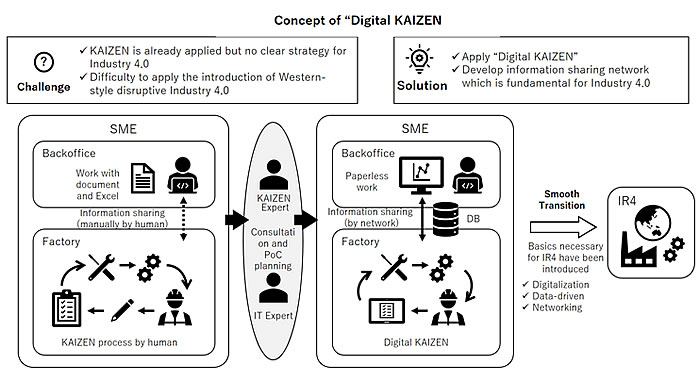 Target SIs
Those who can provide a solution regarding Digital Kaizen for target SMEs mentioned below.
Both local SIs and others who are located in Thailand can apply.
5-10 SIs (In case the number of applications exceed the capacity, selection will be conducted on the viewpoint of participants' diversity)
Target SMEs
Thai local SMEs (at least 51% Thai ownership) who have already applied KAIZEN processes and now facing the following challenges are invited (not application-based).
Not sure how to digitalize KAIZEN processes
Not sure how to adapt themselves to Industry 4.0
Feel that Industry 4.0 is too far
Assumed Technologies
Assumed technologies to apply are:
Any technology that enables KAIZEN processes to be digitalized
Technologies which can be applied to either manufacturing line processes or back office processes
Affordable solutions for Thai local SMEs are recommended
Benefits for Participants
Great idea gets a chance for a funded Proof of Concept project by JICA
Chance to know the challenges, needs and opportunities in manufacturing processes in Thai local SMEs
Chance for networking and brushing up your ideas with potential partners including JICA and Thai governmental agencies
Program
Date
November 29th, Wednesday, 2019
9:00-17:00
Venue
Bangkok (The exact place will be announced soon)
Time Table (Tentative)
| Time | Content |
| --- | --- |
| 8:30-9:00 | Registration |
| 9:00-9:10 | Opening remark |
| 9:10-9:30 | Introduction: Explanation of today's program & metdods |
| 9:30-10:00 | Presentation on Useful Information for Idea Creation for SMEs |
| 10:00-10:30 | Discussion of Current Challenges and Solutions among SMEs (individual work as a company) |
| 10:30-10:45 | Coffee Break |
| 10:45-11:45 | Discussion of Possible Solutions among SMEs (Group work) |
| 11:45-12:15 | Discussion for Improving Solutions among SMEs (individual work as a company) |
| 12:15-12:45 | Presentation of Challenges and Solutions by SMEs |
| 12:45-13:45 | Networking Lunch |
| 13:45-14:45 | Matching Time (Free communication between SMEs and SIs) |
| 14:45-15:15 | Preparation of Presentation |
| 15:15-15:30 | Coffee Break |
| 15:30-16:15 | Presentation & Feedback |
| 15:30-16:15 | Introduction of Otder Funding Schemes from tdai Governmental Stakeholders |
| 16:15-16:45 | Introduction of PoC fund by JICA |
| 16:45-16:55 | Closing remarks |
| 17:00- | (Additional matching session if needed) |
Thai and English (simultaneous interpretation) are used.
For Japanese SIs: Please note that it is better to join this event at least one Thai staff otherwise it may be difficult to communicate with participants from SMEs.
Application
Remarks
Please note that SIs from any part of Thailand are welcome in this event; however, accommodation and transport expense will not be borne by JICA.
Inquiries
Secretariat of Ideathon Seminar for Digital KAIZEN towards Industry 4.0
E-mail: JPABdgkaizen@abeam.com
We, Japan Development Service, Co., Ltd., and ABeam Consulting Ltd., are delegated to conduct the "Survey on Upgrading Manufacturing Industry using the Latest Technology" by JICA and manage Ideathon Seminar for Digital KAIZEN towards Industry 4.0.