On May 14, 2021 JICA Ukraine visited the National Technical University Ihor Sikorsky Kyiv Polytechnic Institute (KPI), where Mr. Satoshi Sugimoto, JICA Ukraine Resident Representative officially donated digital educational materials to the KPI. The provided materials include two DVDs of JICA Program for Japanese Studies with 7 video lectures on Japan's development experience in the fields of politics, economics, public administration, law and others.
One of the above mentioned 7 chapters has already been approbated at the Sociology class at KPI back in April and received a very positive feedback both from the faculty and students (https://www.jica.go.jp/ukraine/english/office/topics/210428.html).
Prof. Serhii Sydorenko, KPI Vice Rector for International Relations pointed out that KPI has a long history of cooperation with JICA that stated back in early 2000s with establishment of Ukraine-Japan Center at KPI. "KPI deeply appreciates cooperation with JICA and welcomes the contribution of the educational materials that will be used at lectures and seminars", Mr. Sydorenko said.
Mr. Sugimoto pointed out that JICA is happy to share the experience of Japan with Ukrainian academic community. "The audience will have a chance to get better acquainted with the process of Japan's modernization and learn how Japan managed to become first non-Western developed country".
Professor Pavlo Kutuev, the Head of Sociology Subdepartment is sure that the lectures will be widely used during the educational process at KPI, as there are a lot of classes that refer to or built upon Japan's experience in modernization. Professor Yana Tsymbalenko, Acting Dean of Faculty of Sociology and Law expressed strong intention to involve Japanese scholars and researchers into further cooperation with KPI.
The donated DVDs will be kept in the library of the Ukraine-Japan Center, where students, faculty and library visitors will be able to watch the content.
For more information on JICA Program for Japanese Studies, please visit here: https://www.jica.go.jp/dsp-chair/english/index.html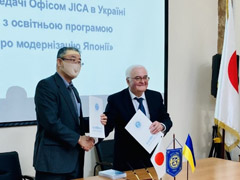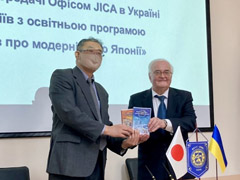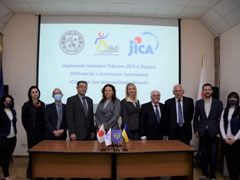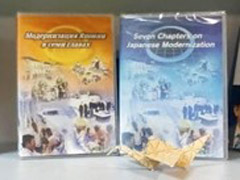 Ceremony at KPI