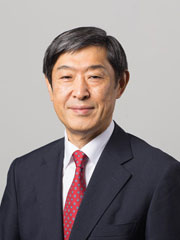 Shinichi Kitaoka became JICA's new president on October 1 2015, succeeding Akihiko Tanaka.

Before assuming the present post, he was President of the International University of Japan.

Mr. Kitaoka's career includes Professor of National Graduate Institute for Policy Studies (GRIPS) (2012-2015), Professor of Graduate Schools for Law and Politics, the University of Tokyo (1997-2004, 2006-2012), Ambassador Extraordinary and Plenipotentiary, Deputy Permanent Representative of Japan to the United Nations (2004-2006), Professor of College of Law and Politics, Rikkyo University (1985-1997)

Mr. Kitaoka's specialty is modern Japanese politics and diplomacy. He obtained his B.A. (1971) and his Ph.D. (1976) both from the University of Tokyo in 1976. He is Emeritus Professor of the University of Tokyo.