JICA held a ceremony Nov. 17 to mark the 50th anniversary of the Japan Overseas Cooperation Volunteers (JOCV). It was attended by Their Majesties the Emperor and Empress of Japan, and some 4,500 former volunteers and supporters.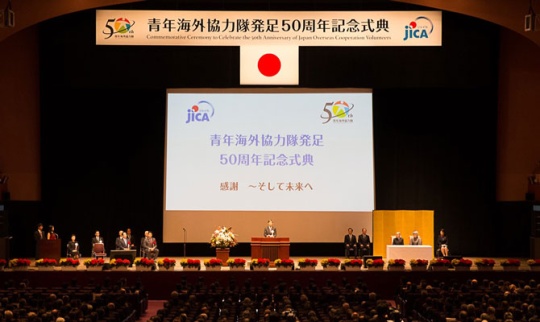 JICA President Shinichi Kitaoka expresses gratitude to supporters of the JOCV Program.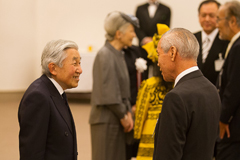 Their Majesties the Emperor and Empress and returned volunteers at the social gathering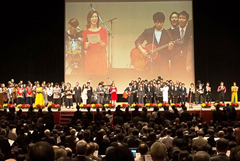 The second part of the ceremony
At the first part of the ceremony, a congratulatory address from Prime Minister Shinzo Abe was delivered and it described JOCVs' activities as "treasure of Japan's diplomacy." Through a video message, Laotian Prime Minister Thongsing Thammavong expressed gratitude to volunteers for persistently solving problems in collaboration with the people of Laos despite differences in culture, customs and living environment.

At the social gathering held after the first part, 24 returned volunteers met Their Majesties the Emperor and Empress. Their Majesties have shown sympathy for volunteer enterprises since the JOCV Program began in 1965 and many volunteers have received words of encouragement and gratitude from Their Majesties. A returned volunteer said "It is our great pleasure to know that Their Majesties the Emperor and Empress have sympathy for our activities."

In the second part, there were ethnic music performances, a panel discussion with Commissioner for Japan Sports Agency Daichi Suzuki and returned JOCVs with the theme "Applying Your Experiences for the Future," and an introduction to the JOCV-themed movie "Crossroads." At the end, there was a performance of "Hitori Hitotsu," a song composed by Naoto Matohara of the band UNDER GRAPH for the anniversary.

Since its beginnings in 1965, JOCV (ages 20 to 39) has sent a total of 40,977 volunteers (as of Nov. 17, 2015) to work in 88 countries in Asia, Africa, the Middle East, Central and South America, Oceania and Eastern Europe. In addition to dispatching JOCVs, JICA's volunteer programs include Senior Volunteers (ages 40 to 69), as well as Youth Volunteers for Nikkei Communities and Senior Volunteers for Nikkei Communities, who cooperate for Japanese emigrant communities and relevant areas in Central and South America.