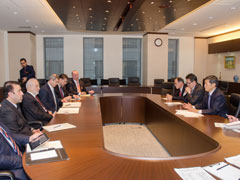 Iraqi Foreign Minister Ibrahim al-Jaafari, second from left, and JICA President Shinichi Kitaoka, far right
JICA President Shinichi Kitaoka held talks with Iraqi Foreign Minister Ibrahim al-Jaafari at JICA headquarters in Tokyo on Nov. 24.

Mr. Kitaoka began by explaining that JICA had provided Iraq with 23 ODA loans totaling $US5.45 billion in fields including power, water, irrigation, transport and health care, and it has provided training to more than 6,800 Iraqis in the form of technical cooperation. He added that JICA would like collaborate and bring steady progress to ongoing cooperation. .

Mr. al-Jaafari expressed his appreciation to JICA for its cooperation to Iraq and gave high marks to its efforts in the areas of economic and social development in particular. He said Iraq would endeavor to build upon the cooperative relationship between the two countries.

When Mr. Kitaoka talked about the importance of education, Mr. al-Jaafari mentioned the importance of cooperation in the energy sector, and said human resource development would be essential to operate and maintain that infrastructure. He said Iraq would like to make use of the broad expertise Japan has cultivated in science, economics, education and other sectors in Iraq's reconstruction works, and he expressed hope for expanded training programs in Japan.

JICA will continue providing cooperation to Iraq as it endeavors to rebuild.