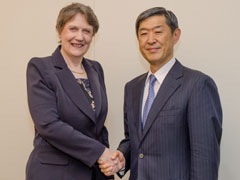 United Nations Development Programme Administrator Helen Clark, left, and Japan International Cooperation Agency President Shinichi Kitaoka, right
JICA President Shinichi Kitaoka held talks with United Nations Development Programme (UNDP) Administrator Helen Clark on Nov. 24 at JICA headquarters in Tokyo.

Mr. Kitaoka began by saying it is important for JICA and the UNDP to further strengthen their partnership to achieve the Sustainable Development Goals (SDGs) agreed upon at the United Nations General Assembly in September.

In response, Ms. Clark said the partnership between JICA and the UNDP has been strategically advanced through annual consultations, specific cooperation projects and joint events. In particular, she appreciated the UNDP-JICA co-sponsored event "Africa's Transformation through Industrial Development and Implementing Agenda 2063," which is the side event to United Nations General Assembly in September, because it contributed to drawing strong attention to TICAD VI, which is an event the UNDP is quite interested in.

Ms. Clark said she is aware that it is important to activate the economy in the countries of Africa, such as by creating employment for young people, in order to solve the issue of immigration from Africa to Europe. She also said an approach that combines humanitarian assistance with development is necessary in supporting refugees, including those from Syria, Iraq and Afghanistan.

Finally, Mr. Kitaoka said it is important for development partners to have a common strategy in engaging with the most recent development issues in the international community, and Ms. Clark said she looks forward to continued partnership between the UNDP and JICA.

JICA will continue strengthening its partnership with the UNDP through important international conferences such as TICAD VI, scheduled in Kenya in 2016, as well as through individual projects.