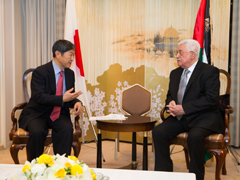 From left, JICA President Shinichi Kitaoka and Palestinian President Mahmoud Abbas
JICA President Shinichi Kitaoka held talks with Mahmoud Abbas, the president of Palestine, in Tokyo on Feb. 15. It was the first time in four years a Palestinian president had visited Japan.

Mr. Kitaoka began by talking about JICA's support to Palestine, and Mr. Abbas expressed his appreciation for JICA's efforts. In particular, regarding the Conference on Cooperation among East Asian Countries for Palestinian Development (CEAPAD), he said the Senior Officials' Meeting held in Japan at the beginning of February 2016 was extremely significant and he expressed his gratitude to those involved from the Japanese side.

After Mr. Kitaoka asked about the situation in the area surrounding Palestine, Mr. Abbas emphasized his continuous efforts toward a peaceful resolution. Mr. Abbas said the "Corridor for Peace and Prosperity" concept the Japanese Government has been promoting since 2006 is a future-oriented project and expressed his expectations and gratitude for JICA's support especially in the fields of water and electric power in the Gaza Strip.

In response, Mr. Kitaoka said he expects economic development to guide Palestine in a positive direction. JICA plans to continue carrying out cooperation that directly contributes to empowering people of Palestine and improving their lives.