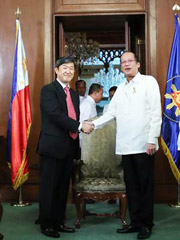 Philippines President Benigno Aquino, right, shakes hands with JICA President Shinichi Kitaoka. (Photo courtesy of Malacanang Photo Bureau.)
JICA President Shinichi Kitaoka visited the Philippines from March 1 to 4, held talks with President Benigno Aquino and attended the groundbreaking ceremony for a farm -to -market road project in the southwestern region on the island of Mindanao.

Mr. Kitaoka met with Mr. Aquino on March 4. Mr. Aquino expressed appreciation for JICA's assistance related to peace-building in conflict-affected areas in Mindanao, and said it is important for the Comprehensive Agreement on Bangsamoro to remain in effect under the next administration and for the proposed Bangsamoro Basic Law, which will form the basis of a new autonomous political entity, to be enacted soon. He also touched on the topics of the North-South Commuter Railway Project (Malolos-Tutuban) and the New Bohol Airport, and emphasized the importance of introducing quality infrastructure to achieving sustainable growth.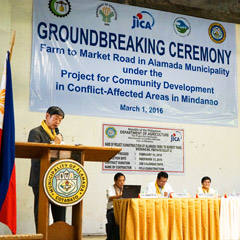 JICA President Shinichi Kitaoka gives a speech at a groundbreaking ceremony for a farm-to-market road project in Mindanao, the Philippines.
On March 1, Mr. Kitaoka visited Alamada, North Cotabato Province, in Mindanao, where he attended the groundbreaking ceremony for roads that will be improved and rehabilitated under the grant aid project entitled "Project on Community Development in Conflict Affected Areas in Mindanao."

This project was agreed upon with the Philippine government in May 2015. By improving and rehabilitating roads connecting agricultural villages with markets, and thus improving the efficiency of transporting agricultural products, promoting agricultural development and securing year-round transportation for rural residents, itthe project aims to achieve better lives and livelihoods for residents and to contribute to reducing economic disparities and helping stabilize peace in the target areas.

Moreover, because communication among local Islamic, Christian and indigenous communities and between neighboring villages will increase because ofby improved connectivity, it is expected that the project will become a meaningful one that contributes to peaceful co-existence.

At the groundbreaking ceremony, Mr. Kitaoka said that though the peace process faces many difficulties, including the long-awaited enactment of the proposed Bangsamoro Basic Law, JICA will continue to stand by local residents and provide support toward lasting peace in Mindanao. Bangsamoro Development Agency Executive Director Mohammad S. Yacob, who attended the ceremony, said he had eagerly awaited the implementation of this project for a long time, and it was a dream come true for him that that day had come. He said he is strongly committed to promoting socioeconomic development so the peace process can continue and a new autonomous government can be established.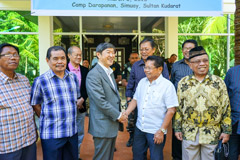 Vice Chairman Ghadzali Jaafarof the Moro Islamic Liberation Front, second from right, front row, shakes hands with JICA President Shinichi Kitaoka. Second from left is Chair Iqbal of Bangsamoro Transition Commission.
On the second day, Mr. Kitaoka met individually with Vice Chairman Ghadzali Jaafar of the Moro Islamic Liberation Front (MILF) and Regional Governor Mujiv Hataman of the Autonomous Region in Muslim Mindanao. Mr. Kitaoka discussed issues related to ensuring peace and the best ways for JICA to provide support. Mr. Kitaoka said all conflicts should be resolved not with arms, but through negotiation and the rule of law, and the Mindanao peace process should be held up as a model of reconciliation to the world because it has come closest to achieving peace without the use of arms. To achieve peace, JICA should quickly provide a peace dividend while continuing to provide as much assistance as possible, he added.
Mr. Kitaoka also visited the Philippines Coast Guard and observed a communications system and buoy tender provided by the Japanese official development assistancegovernment in the past. In so doing, he reconfirmed that the comprehensive support the Japanese government has been provided for many years — combining the three schemes of technical cooperation, loan assistance and grant aid — is contributing to strengthening the maritime security capacity of the Philippines Coast Guard. He also observed the situation surrounding urban transportation in Metropolitan Manila and reconfirmed the importance of building new rail infrastructure.