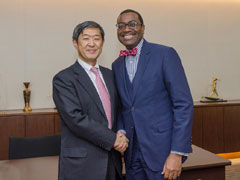 From left, JICA President Shinichi Kitaoka and African Development Bank President Akinwumi Adesina
JICA President Shinichi Kitaoka held talks with African Development Bank President Akinwumi Adesina at JICA headquarters in Tokyo on Thursday, March 24. It was the first trip to East Asia by the president of the African Development Bank, who took office in September 2015, and the first country he visited was Japan.

The talks began with Mr. Adesina expressing his appreciation for the Japanese government's long years of support for Africa. He also expressed his expectations for a stronger partnership with JICA in regard to the five issues he is advocating vis a vis future initiatives for African development:
• Electric power
• Agriculture
• Industrialization
• Regional integration
• Improving the quality of life

Mr. Kitaoka responded by mentioning that JICA is emphasizing assistance to Africa, where the Tokyo International Conference on African Development will be held this year in Kenya. It will be the first time TICAD is held in Africa.

Mr. Kitaoka also said technologies possessed by Japanese companies may be able to solve African problems. He also mentioned that from the perspective of achieving the Sustainable Development Goals, JICA is emphasizing assistance in the field of health.

Mr. Kitaoka closed by saying that dynamic changes continue to occur in Africa and that JICA would like to continue its cooperative relationship with the African Development Bank and strengthen its initiatives in Africa.