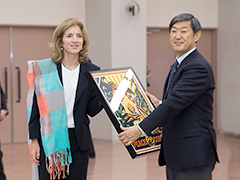 From left, U.S. Ambassador to Japan Caroline Kennedy and JICA President Shinichi Kitaoka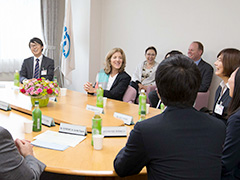 U.S. Ambassador to Japan Caroline (center) converses with JOCV candidates.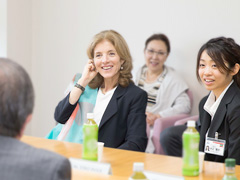 U.S. Ambassador to Japan Caroline (left) converses with JOCV candidates.
On Tuesday, June 7, U.S. Ambassador to Japan, Caroline Kennedy visited the Nihonmatsu Training Center for Japan Overseas Cooperation Volunteers (JOCV) in Nihonmatsu, Fukushima Prefecture, and interacted with JOCV candidates undergoing pre-departure training.

Ambassador Kennedy told the 158 candidate volunteers, "None of our problems can be solved by any one country alone anymore, so it is important for everyone to build the future together. Japan will count on you to come up with ideas and solutions and give ways to make progress."

She talked informally for about 30 minutes with 10 candidates expected to be sent to such countries as the Philippines, Ghana and Malawi, and asked them about their motivation for participating, past volunteer experience and plans after returning to Japan.

Candidates' comments after the conversation included the following: "The Ambassador's words 'Move forward with courage' made an impression on me" and "the Ambassador gave me a supportive nudge forward."

The Peace Corps was established in 1961 by President John F. Kennedy, the Ambassador's father. It had an influence on the JOCVs, which began around the same time (in 1965). Ambassador Kennedy has had a great interest in JICA volunteers who carry out activities at the grass-roots level aiming for social and economic advancement of the developing countries, just like the Peace Corps This interest led to her visit and interaction with the candidates.

In the future, Japanese and U.S. volunteers, including those currently on assignment, are expected to work together in various fields, such as in primary and secondary education and life improvement.




Notes
The Peace Corps is an agency established in 1961 by executive order of President John F. Kennedy. It dispatches U.S. volunteers in such fields as education, health care, agricultural technology and regional development and aims on the grass-roots level to help developing countries progress economically and to improve people's lives.

The JICA volunteer projects are carried out by JICA using the Japanese government's ODA budget. Japanese citizens with skills and ample experience live together with the people of developing countries and provide assistance that contributes to those countries' socio-economic development. 2015 was the 50th year since the start of the JOCVs.
The JOCVs have sent 41,445 people to 88 countries since the project began in 1965, and the Senior Volunteers have sent 5,933 people to 73 countries since 1990 (as of March 31, 2016).

• The partnership between JICA and the Peace Corps
On March 19, 2015, JICA signed a memorandum of partnership to increase the efficiency and effectiveness of volunteer activities collaborated on by the JOCVs and the Peace Corps, the United States' international volunteer dispatching agency.