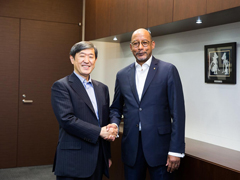 JICA President Shinichi Kitaoka, left, and NEPAD CEO Ibrahim Assane Mayaki, right
JICA President Shinichi Kitaoka held talks with Ibrahim Assane Mayaki, CEO of the New Partnership for Africa's Development Planning and Coordinating Agency (NEPAD), on June 29 at JICA headquarters in Tokyo.

At the start of the talks, Mr. Kitaoka said NEPAD, Africa's own initiative, agrees with the basic ideas of TICAD (Tokyo International Conference on African Development), which emphasizes Africa's ownership, and that in the future JICA would like to deepen its partnership with NEPAD. In addition, he touched on the progress under the memorandum of understanding they concluded in 2014 and the two discussed their cooperation centered on comprehensive infrastructure and the agricultural sector.

Mr. Kitaoka talked about Agenda 2063, a development objective for Africa 50 years in the future adopted last year at the African Union summit. He said knowing about the formation of Africa's culture is essential to understanding its society and economy as a whole, and stressed the importance of mutual understanding by the younger generation.

In response, Dr. Mayaki said culture such as music and movies could be an industry that contributes to economic development and commented that One Village One Product and KAIZEN, which Japan has implemented, are contributing to nurturing industry in Africa.

Finally the two discussed the idea that if Africa is deserted, the world economy will not develop. They then affirmed that they will cooperate to contribute to the development of Africa based on a strong partnership.

In addition to its existing partnerships with NEPAD, JICA will further strengthen its cooperation on nutrition, KAIZEN, science, technology and other diverse sectors as TICAD VI approaches.