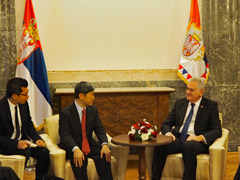 JICA President Shinichi Kitaoka, center, with Serbian President Tomislav Nikolić, right.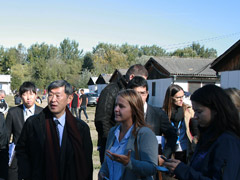 Visit to refugee asylum center.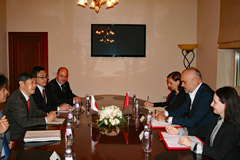 Talks between Albanian Prime Minister Edi Rama, center right, and JICA President Shinichi Kitaoka.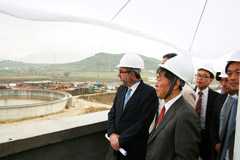 A visit to a Tirana sewage treatment plant.
JICA President Shinichi Kitaoka visited Serbia and Albania from Oct. 4 to 8, where he met with top government officials and visited the sites of JICA assisted projects.

In Serbia, Mr. Kitaoka held talks with President Tomislav Nikolić and Prime Minister Aleksandar Vučić on Oct. 5. Mr. Kitaoka recounted how JICA had opened an office in Serbia in 2006 as a base for cooperation in the Western Balkans region and noted that this year marks the 10th anniversary of its opening. He also said he was happy to be able to make the first visit to Serbia as a JICA president. Mr. Nikolić and Mr. Vučić thanked Mr. Kitaoka for JICA's past cooperation. Mr. Kitaoka also visited the thermal power plant Nikola Tesla, where Serbia's first Japanese ODA loan project — Flue Gas Desulphurization Construction Project for Thermal Power Plant Nikola Tesla — is being carried out.

On Oct. 6, Mr. Kitaoka visited a refugee asylum center in a suburb of the capital of Belgrade. In Serbia and Macedonia, JICA is investigating the situation of local governments affected by the inflow and presence of refugees, and considering support measures. Mr. Kitaoka saw the situation of refugees staying in Serbia and reaffirmed the importance of cooperation for refugees and migrants issues.

In Albania, Mr. Kitaoka held talks with Prime Minister Edi Rama on Oct. 7. Mr. Kitaoka said JICA has provided cooperation to Albania in sectors including sewage facilities, solid waste management and tourism, and that JICA would like to continue strengthening that relationship through exchanges of people in various fields. Mr. Rama thanked Mr. Kitaoka for JICA's past cooperation.

With Transportation and Infrastructure Minister Sokol Dervishaj, Mr. Kitaoka visited the Sewerage System and Sewage Treatment Plant for Greater Tirana, which is now under construction using Japanese ODA loans. There he confirmed that the project is making a great contribution to improving sanitation and the environment in Tirana and the surrounding area.

Mr. Kitaoka also visited Mother Teresa Children's Hospital in the capital of Tirana. JICA supplied medical equipment to the hospital through grant aid. Mr. Kitaoka saw that the hospital is the only Children's Hospital in Albania, that it accepts seriously ill patients from all over the country and that high quality Japanese medical equipment is greatly contributing to its treatment of patients.