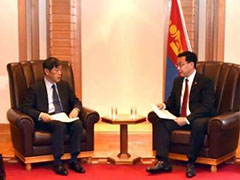 JICA President Shinichi Kitaoka (left), and Mongolian Prime Minister Jargaltulga Erdenebat (right).
JICA President Shinichi Kitaoka met with Mongolian Prime Minister Jargaltulga Erdenebat in Tokyo on Oct. 14.
Mr. Erdenebat was visiting Japan on his first foreign trip since assuming office in July 2016.

At the start of the meeting, Mr. Erdenebat expressed thanks for JICA's cooperation toward Mongolia in various areas, mentioned that more than 50 business stakeholders were part of his delegation to Japan and said he wanted to further improve the investment climate in Mongolia.

In response, Mr. Kitaoka said he expects New Ulaanbaatar International Airport, which is being built with loan assistance and technical cooperation, to encourage foreign investment, and he affirmed that stakeholders from both countries will work together further as its opening approaches. The two men also talked about the importance of repeated efforts toward industrial diversification and human resource development to revitalize the Mongolian economy. Finally, Mr. Kitaoka closed the talks by telling Mr. Erdenebat that Japan hopes for Mongolia, which Japan feels great friendship a toward, to further develop as a free and democratic country.

JICA will continue its cooperation to assist with sustainable development of Mongolia.