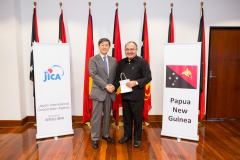 From left, JICA President Shinichi Kitaoka and Papua New Guinea Prime Minister Peter O'Neill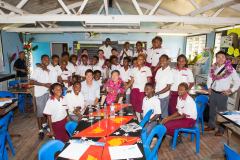 JICA President Shinichi Kitaoka visits an elementary school where a Japan Overseas Cooperation Volunteer teaches science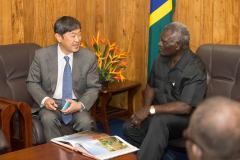 From left, JICA President Kitaoka and Prime Minister Sogavare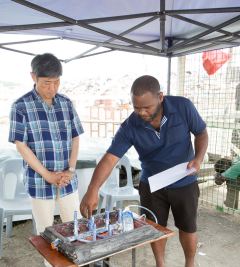 Mr. Kitaoka visits the Ranadi dumpsite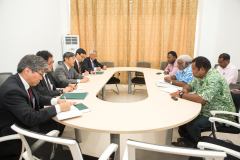 Acting Prime Minister Joe Natuman and JICA President Shinichi Kitaoka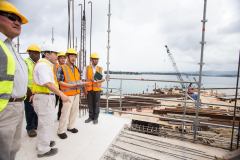 Visit to Port Vila Lapetasi International Multi-Purpose Wharf
JICA President Shinichi Kitaoka visited the three Pacific Island countries of Papua New Guinea, the Solomon Islands and Vanuatu from Nov. 10 to 16.

Papua New Guinea (PNG) is the country with the largest land area (1.25 times larger than Japan) and the biggest population among the Pacific Island countries. From PNG, half of the liquefied natural gas (LNG) production has been exported to Japan since 2014. The Solomon Islands and Vanuatu face challenges common to Pacific Island countries — environmental conservation, disaster risk reduction and maintaining economic infrastructure — and JICA is working for them to overcome these challenges.

During his visit to the three countries, Mr. Kitaoka met with Mr. Peter O'Neill, prime minister of Papua New Guinea, Mr. Manasseh Sogavare, prime minister of the Solomon Islands, and Mr. Joe Natuman, acting prime minister of Vanuatu. He also held discussions on economic growth and approaches to development with JICA experts and other Japanese living in these countries. Also, Mr. Kitaoka visited several JICA project sites and JICA volunteers work places.

1. Papua New Guinea
On Nov. 10, Mr. Kitaoka held talks with Mr. O'Neill, prime minister of Papua New Guinea. Mr. O'Neill expressed appreciation on various Japanese cooperation projects in such areas as education, health and infrastructure, noting that these projects brought visible results. Mr. Kitaoka said he hopes that many future leaders of Papua New Guinea would visit Japan to learn about Japan's development experience, both from successes and failures, as Japan is a model case of development in which both the tradition and modernization are well-balanced. Mr. Kitaoka introduced that JICA is now preparing a comprehensive education program, to foster upcoming generations of developing countries, including Pacific Island countries by studying in Japan.

In the capital of Port Moresby, Mr. Kitaoka visited sewage treatment plant construction project site. Being informed that Japanese technology will be applied on this project, Mr. Kitaoka confirmed that the construction is proceeding smoothly, and at the same time, contributing to the creation of local employment. In the town of Kokopo on the island of New Britain, he observed that the New Rabaul Airport (Tokua Airport) built with Japanese Official Development Assistance (ODA) Grant Aid is contributing to the development of the remote island area of the country. Mr. Kitaoka confirmed that there is the potential for further development of the area, mainly tourism development. He also observed a Japan Overseas Cooperation Volunteer (JOCV) teaching science at an elementary school. Visiting the JOCV's class — where a relationship of mutual trust among the JOCV, local teachers and students was built — Mr. Kitaoka confirmed that the JOCV is playing a vital role firmly at the grassroots level of cooperation based on people-to-people interaction.

2. The Solomon Islands
Mr. Kitaoka met with Mr. Sogavare, prime minister of the Solomon Islands, on Nov. 15. The prime minister expressed thanks for Japan's long-standing assistance and explained that his government is making an effort to promote tourism in the Solomon Islands, including a plan to start direct flights from Asia. Mr. Kitaoka explained that JICA's cooperation is executed with close collaboration and mutual cooperation with the recipient country, and not a one-way cooperation. He said he is grateful that the Honiara Central Market, which was constructed through ODA Grant as a result of such mutual cooperation, is being actively used. He added that JICA is considering a comprehensive program of studying in Japan to foster upcoming generations.

In Honiara, the capital of the Solomon Islands, Mr. Kitaoka visited the Honiara Port, a Japanese ODA grant project, and observed how cargo handling became efficient after the completion of the project. He also visited the Kukumu Highway construction site, another Japanese ODA grant project, where construction had just begun. Also, during his visit to the Ranadi dumpsite and the National Disaster Management Office, Mr. Kitaoka observed how Japan is providing comprehensive support to improve the capacity of the government of the Solomon Islands on waste management as well as disaster management through various types of ODA projects, such as technical cooperation, the JICA partnership program (with Japanese NPOs), volunteer programs and grant aid projects. Two officials from the National Disaster Management Office are currently studying in Japan through Pacific-LEADS*, and Mr. Kitaoka confirmed that Japan is making a large contribution in the disaster management field.

*Pacific-Leads (Pacific Leaders' Educational Assistance for Development of State) — A JICA long-term training program for young leaders of Pacific Island countries. It was launched by Prime Minister Shinzo Abe at the 7th Pacific Island Leaders Meeting in 2015. The program aims to help to enhance participants' capacity to solve development challenges in their own countries by attending master's degree courses at Japanese Universities, as well as by participating in internship programs at public and private entities in Japan.

3. Vanuatu
President Kitaoka met with Mr. Natuman, acting prime minister of Vanuatu, on Nov. 16. Mr. Natuman expressed his appreciation on years of favorable relations between Japan and Vanuatu, and on JICA's cooperation in various sectors and areas. The two discussed how the expansion of an international wharf by construction of the Port Vila Lapetasi International Multi-Purpose Wharf through a Japanese ODA loan could contribute to the further promotion of the economic growth and the tourism industry of Vanuatu. Mr. Kitaoka reported on the progress of Pacific-LEADS and said JICA is considering an additional comprehensive program for studying in Japan.

Mr. Kitaoka visited the site of the Port Vila Lapetasi International Multi-Purpose Wharf project. There, Mr. Kitaoka confirmed that the development of the wharf would contribute not only to facilitate the handling of international cargo, but also it is raising awareness of safety consciousness on public construction works, and creating of local employment including upgrading of technique.